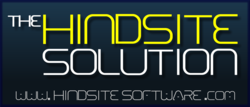 With HindSite's new QuickStart program, they'll be able to be up and running quickly so they can leverage the efficiencies our software delivers, saving a lot of money – and time – in the process."
St. Paul, MN (PRWEB) June 30, 2013
Customers buying field service software have always had a problem: When they buy a solution, setup times were measured in weeks or months, not days. So they'd buy a software solution and spend vast amounts of time customizing the software environment to fit their needs. By the time the solution was up and running, the enthusiasm they'd experienced right after purchasing the software had evaporated.
It's a problem HindSite Software has worked diligently to fix. With the release of their new QuickStart program, they believe they've solved the problem. In just four days, a new customer can get a complete business system – including service scheduling, dispatch and routing, field data collection, integration to billing software and business reporting – and get a field employee using a device in the field to capture data.
The system works because it uses a mix of recorded and live training sessions to teach core concepts. A base template grounded in best practices based on more than a decade of experience implementing HindSite into businesses large and small is used to streamline software setup.
"Our buyers have usually waited until the offseason to buy a software solution because implementing a typical field service software solution is too difficult in the middle of the season," explains Calvin Blanchard, HindSite's Dean of Professors. "They know they need a solution, but can't interrupt their business to install one. With HindSite's new QuickStart program, they'll be able to be up and running quickly so they can leverage the efficiencies our software delivers, saving a lot of money – and time – in the process."
The QuickStart program works best for customers looking for irrigation software, though additional modules are in development for other industries, including those looking for snow removal software.
About HindSite Software
HindSite Software has helped contractors better manage and grow their business with field service software since 2001. Initially designed as irrigation software, HindSite today combines service scheduling software with billing, contact and contract management (e.g. field service CRM), field data collection, and invoicing in QuickBooks®, Sage Peachtree®, and Simply Accounting®. This paperless field service management software has been proven to increase efficiency and organization, meaning greater profit potential with less administrative time.