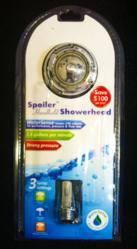 The average family could save 2,900 gallons per year by installing WaterSense-labeled shower heads.
Fairview, OR (PRWEB) June 30, 2013
Part of the Goodwill Industries International's mission is to enhance the quality of life for individuals and communities through financial and environmental responsibility. Goodwill Industries of the Columbia Willamette fulfills these goals by providing energy efficient shower heads to their customers. When residents shop at Goodwill in this service area, they frequently see new WaterSense-labeled, energy efficient shower heads for a discounted price. EcoTone Products and Goodwill are collaborating to make these high efficiency shower heads available.
For the last three years, Goodwill Industries of the Columbia Willamette has been a retail channel for energy efficient shower heads from EcoTone Products. Through the application of market research, this Goodwill service area found that their customers are very concerned about the environment and helping their neighbors. "This Goodwill service area of nearly 50 stores has the most shoppers of any Goodwill retailer in North America. The reason this program works is simple, our neighbors watch their wallets and love the planet. EcoTone Products delivery of nearly 10,000 high efficiency shower heads fits perfectly with our customer needs here in the Pacific Northwest" says Dale Emanuel, Public Relations Manager for Goodwill Industries of the Columbia Willamette.
Two types of chrome shower heads are available, the traditional fixed shower head and, for a bit more money, a handheld shower head. They are both 1.5 gpm (gallons per minute). These shower heads meet the Environmental Protection Agency's criteria to be WaterSense-labeled, and are 40% more water efficient than standard showerheads.
These water savings result in a lower water bill. Since the shower heads are high efficiency, they also reduce energy output when heating the water and less water wasted which effects sewage. Overall, the average household savings is approximately $100 per year when switching from a 2.5 gpm shower head to the 1.5 gpm shower head sold at Goodwill. In energy and water savings it adds up fast. The WaterSense program asserts, "The average family could save 2,900 gallons per year by installing WaterSense-labeled shower heads. Since these water savings will reduce demand on water heaters, they will also save energy. In fact, the average family could save more than 370 kilowatt hours annually, enough to power a house for 13 days."
The agreement between EcoTone Products and Goodwill creates the opportunity to achieve energy and water savings for a fraction of the cost. In this venture, EcoTone Products gives the shower heads to Goodwill. For every shower head that sells, a utility reimburses EcoTone Products with a rebate. Goodwill Industries of the Columbia Willamette puts the proceeds from the shower heads back in to the community through the jobs program, which helps find work for unemployed individuals that are at a disadvantage.
Roch Naleway, General Manager of EcoTone Products says "We act on behalf of the utility by helping them make their conservation goals through retail partners like Goodwill. This platform is a win for all the stakeholders. This program doesn't just save the Goodwill shopper money, it conserves resources and has a positive environmental effect. In the future we would like to distribute CFL lamps the same way."
About EcoTone Products
EcoTone Products, LLC is a wholly owned subsidiary of General Pacific, Inc. EcoTone Products offers products and services engineered to optimize resources while maintaining high performance standards. The commitment to quality conservation products extends through their vast product line, which includes many energy conscious manufacturers. EcoTone Products has a focus of providing quality product solutions and support that assists our customers in reaching their conservation goals.