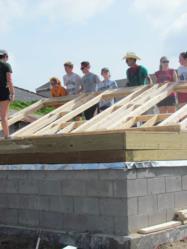 NO, LA (PRWEB) June 30, 2013
New Orleans Area Habitat for Humanity (NOAHH) raised the walls on its 500th new construction home located at 2525 Delachaise in New Orleans for Denise Brown's Family today.
"It's amazing what volunteers who care about a city and their fellow man can accomplish," stated Jim Pate, Executive Director, NOAHH. "We didn't build these homes all on our own. We've worked side by side with volunteers, donors, community leaders, friends and most importantly our partner families for 30 years. Everyone who has built with us should be proud of this milestone."
Ms. Brown has two daughters. Monetiaka is a senior at Xavier University majoring in Elementary Education and Erica, who is very active in sports, attends Luscher. Ms. Brown has already completed her 350 hours of sweat equity but still plans to put in additional hours building her own home.
"I am so proud to give my daughters a home to call their own," stated Denise Brown, New Orleans Habitat for Humanity Partner Family. " This is a dream come true for our family."
This home has significant meaning for NOAHH as it represents the 500th new home constructed by NOAHH and this lot which was purchased from New Orleans Redevelopment Authority (NORA) is located only a block away from the first home NOAHH constructed post-Katrina.
"NORA and New Orleans Habitat for Humanity have been partners in the community for many years. We are excited that the 500th home build is on a lot that Habitat acquired from NORA in 2011," stated Jeffrey P. Hebert, Executive Director, New Orleans Redevelopment Authority. "We will continue to partner with Habitat to provide quality affordable housing in our city."
In addition to 500 newly constructed homes, NOAHH has:

Contributed over $307 million in local economic impact
Created 3,434 jobs from 2006-2012
Built 499 new-construction homes
Gutted 2400 homes post-Katrina
Rehabbed over 230 homes.
Completed hundreds "A Brush with Kindness" projects
"Many people ask us what NOAHH is going to do now?" further stated Pate. What they don't always understand is that 30 years is a commitment to the area and we are not finished, there is still a lot of work to be done!"
New Orleans Area Habitat for Humanity, an independent affiliate of Habitat for Humanity International, is a 501(c) 3 non-profit organization. NOAHH builds new houses in partnership with sponsors, volunteers, communities, and homeowner families to eliminate poverty housing in the New Orleans area while serving as a catalyst to make decent shelter a matter of conscience and action. Since its inception in 1983 NOAHH has built 499 new homes for low-income families in need of adequate shelter. NOAHH plans to continue to build homes in Orleans, Jefferson, St. Bernard, St. Charles and Plaquemines Parishes. http://www.habitat-nola.org