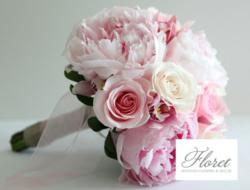 "Peonies are the heart's desire of every bride-to-be."
-Jenny Hong, principal designer and owner of Floret Wedding Flowers and Decor
Toronto, Ontario (PRWEB) June 30, 2013
From early May to the middle of July, the arrival of peonies at Floret Wedding Flowers and Decor, an exclusive Toronto wedding flower studio, signals the arrival of the luxurious wedding. Prized for their unique and soft appearance, these fulsome blooms are the heart's desire of every bride.
From a vintage look to adding a textured compliment to a modern arrangement, these premium flowers can be found in the shades ranging from white, pink, coral and deep red. In addition to the numerous colour possibilities, these beautiful blooms can be combined with other flowers making the options endless. From bouquets for the bride and bridesmaids, ceremony arrangement designs as well as guests reception centerpieces, these flowers add the perfect touch.
Jenny Hong, principal designer and owner of Floret Wedding Flowers and Décor finds that the creative options for using peonies are endless. "Peonies can be combined with roses for the ultimate romantic look or can be gathered with lush vintage greens to create a rustic vintage look", says Jenny Hong. "It's a flower that allows the bride to express her personal style in a multitude of ways and unlike the peonies that are found in a neighbouring garden, commercially grown peonies are hardy."
The peony is single-handedly the most requested wedding flower aside from the rose and until recently left brides getting married at a time to year other than the season prime to peonies disappointed. However, international resources of peonies have steadily been coming online making these flowers a potential possibility during the off season.
Floret Wedding Flowers and Décor offers helpful planning tools and a checklist that can be found online http://www.floret.ca at its website.
Floret is dedicated to the creation of wedding flowers and décor that are reflective of the unique love of its couples. The studio located in Markham, Ontario and serves couples planning their weddings in Toronto and the Greater Toronto area. Consultations are available by appointment and can be made online or via phone at 905-604-8620.