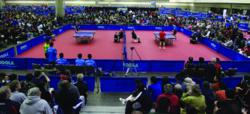 North American Table Tennis (NATT) is bringing professional table tennis to the nation's capital
National Harbor, MD (PRWEB) June 30, 2013
North American Table Tennis (NATT) is bringing professional table tennis to the nation's capital later this year and registration for the event is almost halfway through! During Thanksgiving weekend, National Harbor and The Gaylord National Resort & Convention Center will be hosting the annual North American Teams Championships which is the world's largest team-based table tennis competition for all levels.
After 15 years in the city of Baltimore, NATT has decided to change the venue in an effort to breathe new life into the event and increase awareness for the sport of table tennis. With a beautiful hotel and spacious playing hall under the same roof, the overall experience of the Teams event is expected to improve significantly. More space for tables, expanded court sizes, and better lighting in the playing hall were all prerequisites for the location change as competition experience was the top priority.
Aside from the world-class competition in the playing hall, another attraction of the event will be National Harbor's traditional holiday activities that offer entertainment for all ages. For starters, an ice sculpture exhibit called ICE! Attracts thousands of visitors annually and will feature characters from DreamWorks' productions such as Shrek. In addition, events such as the nightly Christmas Tree Lighting and Snow in the Atrium are all onsite in The Gaylord National Resort, while numerous food and shopping destinations are available within walking distance. Lastly, with National Harbor only minutes away from Washington D.C., it makes for an inviting backdrop for visitors to see the US capital city.
To help guests capitalize on these opportunities, each booked room at The Gaylord National Resort will include two free tickets to see ICE! (a $70 value), access to Pose Ultra Lounge & Nightclub for a private party reserved for guests of the tournament hotel, and one free spectator pass for the duration of the competition (a $20 value). In addition, NATT is also offering exclusive pricing and deals for registering early. The last promotion ends July 7, 2013.
For more information or questions regarding this press release, please visit http://www.joolateams.com and http://www.natabletennis.com.
About North American Table Tennis
Founded in 1998, North American Table Tennis (NATT) is the only table tennis-focused event planning company in the United States. Initially, the company operated a handful of professional tournaments, which eventually came to be known as the North American Tour and the North American Teams Championships. However, for more than 10 years, NATT has also partnered with USA Table Tennis, the national governing body for table tennis in the US, to manage the rating system as well as operate the US Open and US National Championships.
In recent years, NATT has spread its wings to include corporate and charity table tennis events as well. Having established excellent working relationships with its clients, NATT has many repeat customers and is often approached with new business proposals as a result of word of mouth advertising. Much of NATT's success can be attributed to its dedicated core management team, the majority of which comes from the sport of table tennis and understand the complexities of working in this specialized market.