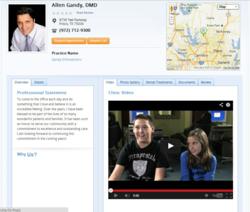 We know how busy today's parents are, but that shouldn't stop them from finding a dentist in Texas to meet their family's oral health needs.
Dallas, Texas (PRWEB) June 28, 2013
ChooseYourDentist.com, the website where patients and dentists connect, is making it easier than ever for busy families to find Texas dentists with the release of its new mobile application. With the increasing popularity of mobile devices, dental patients can now search for Texas dentists from wherever they are.
ChooseYourDentist.com, the website where dentists and patients connect, has added a mobile application to its already available online, Android and iPhone accessibility. The online portal helps patients find Texas dentists by narrowing down factors that include geographic location, dental specialty and insurances accepted.
Texas dentists and patients alike find that ChooseYourDentist.com is a fast and effective way of connecting. Dental practices which are looking for one location where consumers can quickly search for dentists in Texas have been using the site's convenient templates to build their customized microsites and add a short practice video to aid in attracting new patients to their practices. Texas dentists are now able to access a special office feature which allows them to add attractive promotion offers right from their administrator's dashboard.
The up-to-the-minute database available in ChooseYourDentist.com allows prospective patients to search for dentists in Texas. They can then view featured profiles, such as those for Dr. Anup Naik and Dr. Allen Gandy, Dr. Carlos Nurko, or narrow down their search even further to search for dentists in Dallas or by practice specialty. If the practice sounds like it would be a good match, they can go to the next step and set up an appointment or request a telephone call.
"We know how busy today's parents are, but that shouldn't stop them from finding a dentist in Texas to meet their family's oral health needs," said Feridoon Amini, the site's founder and an IT professional. "Whether it is searching for a family dentist in Dallas or finding a cosmetic dentist in Austin, we want to make the whole process as easy as possible. Because there are so many people using mobile devices now the addition of our new mobile application means dental patients can quickly search for a Texas dentist whenever it's convenient for them."
Dentists in Texas are using ChooseYourDentist.com in conjunction with its sister site, DentalSpots.com, to receive a full range of services that will help them run their practices more effectively. While ChooseYourDentist.com helps them connect with prospective dental patients, DentalSpots.com helps connect them with prospective dental employees. Dentists can easily access any patient contact requests through their DentalSpots.com dashboard and don't have to set up two separate access points. The two sites function together seamlessly, allowing Texas dental practices to attract dental professionals and dental patients without having to go through a lot of complex set-up procedures. Dental practices in Texas are benefiting in many ways from this powerhouse combination, which means they have more time available to devote to patient care.
Further information on ChooseYourDentist.com may be found at http://www.ChooseYourDentist.com, by calling 1-888-I-CHOOSE, or by email at info(at)ChooseYourDentist(dot)com.