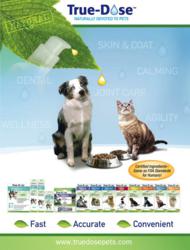 St. Louis, MO (PRWEB) June 30, 2013
True-Dose Pet Products is proud to announce a new partnership with immune-supporting ingredient supplement EpiCor®. The two companies have developed new products that will provide the quality and delivery of True-Dose products with the immune-supporting benefits of EpiCor. EpiCor® for Pets supplements hit the market in Spring 2013 with formulations for Puppy, Adult, Senior and Allergy.
True-Dose and Epicor will jointly attend the SuperZoo National Show for Pet Retailers July 23 through 25 at the Manadalay Bay Convention Center in Las Vegas, Nevada. True-Dose will be displaying: Calming, Skin & Coat and Joint Care. EpiCor for Pets will display their full product line. These products will be available at booth # 5171.
By teaming with EpiCor®, True-Dose will maintain its commitment to providing quality pet supplements with human-grade ingredients. EpiCor is a human-grade dietary supplement that is used to promote a balanced immune system naturally with a special combination of protein, fiber, vitamins, amino acids, antioxidants and other metabolites. EpiCor will now be available to provide integral immune support for pets, too.
The new pet product line will utilize the delivery technology of existing True-Dose liquid products. True-Dose supplements have been clinically proven to have a faster absorption rate and higher peak concentration than tablets and chewables in a head-to-head, crossover study conducted by the Oklahoma State University Veterinary Animal Science and Research departments.
About True-Dose Pets
True-Dose uses patented technology to provide pets with a higher level of quality in nutritional and functional supplements. Our supplements are manufactured at human-quality, pharmaceutical-grade levels, following the same strict testing and quality standards mandated by the FDA for state of the art pharmaceutical product manufacturing.
True-Dose is an industry leader in maintaining standards to ensure the quality and safety pets deserve.
True-Dose currently has products to address agility, joint care, calming, skin and coat, wellness, and dental problems. For more information about True-Dose and its products, please call us at 877-447-7710, or visit our website: http://truedosepets.com/.
About EpiCor®
EpiCor® is an all-natural ingredient used in dietary supplements. This immune-supporting ingredient is a special combination of protein, fiber, vitamins, amino acids, antioxidants and other metabolites. Instead of providing immune "boosting" or suppression, EpiCor products balance the immune system, so that it can provide an optimal immune response.
EpiCor has been in human use since 2004, with an exemplary history of use. Employees at a factory manufacturing various solutions for animal agriculture problems were the first to notice the supplement's benefits. Those employees handling the active ingredients in EpiCor had astoundingly low levels of illness, and EpiCor was then researched and developed for human consumption. EpiCor is made with Baker's Yeast, the same product in bread and beer, but with a very different and complex fermentation process. EpiCor is currently available in hundreds of human supplements on store shelves today.
For more information about EpiCor® and its benefits, visit their website at http://epicorimmune.com/.
For more information about the SuperZoo National Show for Pet Retailers, visit their website at: http://superzoo.org/.