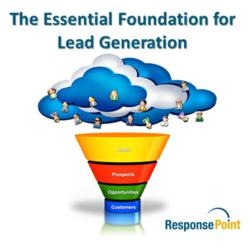 Before you invest in any lead generation activity you need the foundation to support lead acquisition and conversion
Raleigh, NC (PRWEB) June 30, 2013
ResponsePoint (http://www.ResponsePoint.com), a Raleigh, North Carolina based marketing agency specializing in Business-to-Business (B2B) lead generation solutions has added another webinar to their monthly webinar series. This webinar entitled "The Essential Foundation for B2B Lead Generation" focuses on the critical business processes necessary to build and manage a sustainable lead generation program.
Targeted at small and medium size businesses, this webinar will cover a range of topics including:

Defining and streamlining the buying process
Customer centric value propositions and positioning statements
Prospect profiling and target audience definition
Lead acquisition entry points
Lead follow-up and nurturing
Campaign measurement and tracking
Sustainability and long-term management
"Small and medium size businesses can't afford to waste money trying to figure out what to do," says Brian Gossett, CEO of ResponsePoint. "This webinar is designed to help them jumpstart their lead generation activities and implement the processes necessary to generate leads in the most effective and affordable way."
This webinar "The Essential Foundation for B2B Lead Generation," and each in the series addresses a specific area of lead generation and what companies need to do to build, manage and optimize their marketing programs to produce more, highly qualified leads. For more information about ResponsePoint's marketing webinar series, visit their website at http://www.responsepoint.com or call 800-990-0725.
About ResponsePoint
ResponsePoint builds efficient and effective B2B lead generation solutions. Our process centered approach to lead generation improves your ability to produce better quality leads, consistently over time. This starts with developing a strategy that aligns your objectives with the right target audience and the perfect mix of marketing communications. We then use our experience to apply proven marketing processes and technologies that simplify program management, measurement and sustainability for long after our initial engagement is over. ResponsePoint's headquarters is just outside the Research Triangle Park area of North Carolina.