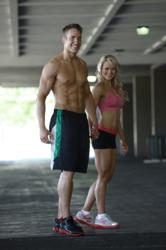 Whether on vacation or traveling for work, fitness should be a 24/7 mindset.
(PRWEB) June 30, 2013
Which type of person are you: the one that leaves their health and fitness behind when traveling, or the person that squeezes in exercise on their hectic travel schedule? Whether on vacation or traveling for work, fitness should be a 24/7 mindset. Sure there should be some rest days thrown in, but not at the expense of derailing a fitness program. If the thought of having to vacation around a gym, or committing a chunk of time to a long, overrated workout DVD scares the fitness out of you, have no fear, because Workout Anywhere is here.
Workout Anywhere by RundleFit is the new and proven, quick and effective anywhere workout system (perfect for travel workouts). No other home or traveling workout system is more adaptable and scalable for all ability levels as Workout Anywhere by RundleFit. RundleFit's new travel workouts are the new addition to their revolutionary training method. This is a simple, smart training approach that is becoming hailed as the perfect beginner, intermediate and advanced total body training system, without equipment. For some workouts, Workout Anywhere recommends a couple pieces of transportable and affordable equipment, but there is such a large volume of weekly workouts, one can literally train in their hotel room with a body weight only program and receive one of the best fat burning travel workouts of their lives in 15 minutes. Read on to learn more about Workout Anywhere's innovative fitness system.
When traveling, the last thing someone wants is to lug around is heavy fitness equipment in an already jam-packed suitcase. Sometimes, this can be the traveling fitness deal breaker. Or maybe, one relies on the notion of there already being a hotel weight room. Generally, this is a converted closet space with a treadmill or worse. In contrast, neither option is convenient as or as informative and guided as Workout Anywhere. Simply wake up, grab some water, a quick snack and turn on Workout Anywhere via phone, tablet, computer or television (No DVD's, Workout Anywhere streams through online access). Within 15 minutes, Workout Anywhere can take one through a dynamic warm-up and fat blasting, travel workout in either a beginner, intermediate or advanced variation. Workout Anywhere turns one's body into the gym, and can provide optimal strength gains and fat loss without weights.
Workouts are composed of four to seven total body exercises, and have elements of strength, core, conditioning, balance and plyometric activity (some workouts recommend bands or a suspension trainer. Most workouts can be done without any equipment). Every component creates a unique circuit style workout and harnesses the power of metabolic conditioning (the best training method for targeting body fat) without being overly high impact. Whatever variation or format the user picks, Workout Anywhere provides the perfect, quick and effective, fat burning travel workout for members.