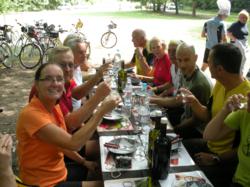 We would ride every morning through these beautiful Tuscan landscapes, stop for lunch, ride a little more, and then head back to our villa to shower before an afternoon cooking class.
- Dawayna Perry | BikeToursDirect client
CHATTANOOGA, Tenn. (PRWEB) June 28, 2013
On the Cycling and Cooking in Tuscany bicycle tour, adventurers work up an appetite biking through the rolling landscape of Italy. Between unforgettably scenic rides, guests learn to cook with the freshest local ingredients. "La Cucina Toscana" is simplicity in its purest form. Tuscan cooks have the freshest seasonal products at their disposal, combining them with the region's fine olive oils, wines and cheeses to create rich meals. Most days will include a hands-on cooking class or a tasting at a local food artisan. Travelers will also dine out at a simple osteria, family trattorias, and elegant restaurants.
"I have such a passion for cooking, though I was new to cycling when my husband and I did this tour," says BikeToursDirect client Dawayna Perry. "We would ride every morning through these beautiful Tuscan landscapes, stop for lunch, ride a little more, and then head back to our villa to shower before an afternoon cooking class. We learned to make pastas, gnocchi, tiramisu -- classic, simple Italian food. We'd linger for hours at the dinner table enjoying the freshest food, wonderful wines, and the great company of our group."
On the self-guided Provence Farmhouse Holiday, cyclists are based in a quaint countryside bed and breakfast in the south of France. Travelers fuel up for beautiful rides past endless lavender fields and quiet back roads with three home-cooked, traditional French meals at the farmhouse. Foodies can enjoy the real flavor of Provence tasting their way through Luberon sampling regional wines and cheeses.
Heading to eastern Europe, guests indulge in the less-known wonders of Hungarian gastronomy with the Wine and Bike in Hungary's Balaton Uplands tour. Jim Johnson, president of BikeToursDirect, ranks this experience as one of his personal favorites: "Gabor and Sophie, the recently married owner-guides of Vinociped, are charming hosts who are proud to show off their country and its superb wines, which rarely make it outside the country due to the sparse quantities. Gabor is a trained oenologist who knows every small vineyard and every vintner."
Travelers who are more wine connoisseurs than foodies can try an off-the-beaten path tour of some of the world's best vineyards. On a cycling tour of Capetown and the Winelands in South Africa, adventurers will feel like professional sommeliers. Guests visit the country's oldest estates and Franschhoek (French corner), the self-styled gastronomic capital of the country. There they will indulge at award-winning restaurants serving sumptuous cuisine and an array of vintages to please even the most discerning wine connoisseur. Perhaps the most well-known and looked forward to is the stop in Stellenbosch, second oldest town in the country with its famous wine estates, off-road biking in the Jonkershoek Reserve and wonderful oak-lined avenues.
In New Zealand, cyclists can tour the south island in the Marlborough region, one of the world's top ten wine destinations and home of the world's best Sauvignon Blancs. The magical combination of the climate and soil in this part of New Zealand produces wine like no other, with a distinctive fruity taste. This beautiful rural region features quiet roads ideal for relaxed cycling between wine tastings. At night, adventures can relax and be spoiled for choice with superb dinner venues.
For a complete list of BikeToursDirect's offerings featuring cuisine, wine or beer, visit http://bit.ly/10oicED.
BikeToursDirect serves as a central resource for bicycle tours worldwide, representing nearly 100 local bicycle tour companies that offer 450 tours in 70 countries in Europe, Asia, Africa, Australia and the Americas. BikeToursDirect offers a variety of resources to help travelers search for and choose tours and handles the entire booking and payment process. Learn more at http://www.biketoursdirect.com.