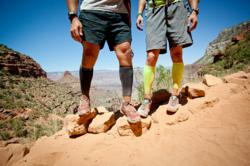 Our continued growth in the outdoor industry is a testament to the quality and technology behind our products.
Miami, FL (PRWEB) June 30, 2013
Zensah®, the leader in performance compression apparel, has seen tremendous growth in the outdoor industry as outdoor enthusiasts have adopted compression apparel as their "must have" item. Athletes going hiking, fishing, boating, and camping all benefit from Zensah Compression Socks and Leg Sleeves.
Participating in outdoor activities requires durable gear that can withstand the outdoors and be comfortable to wear for long hours. Zensah's compression apparel offers just that. The compression leg sleeves are the best selling compression leg sleeves in the USA. Key features include graduated compression, targeted muscle support, and faster recovery. Hiking and fishing require long hours standing and the Zensah Compression Leg Sleeves help alleviate the fatigue caused by those long hours.
Zensah is also strongly recognized by outdoor enthusiasts for manufacturing 80% of its products in the USA, including the number one selling compression leg sleeves. By manufacturing in the USA, Zensah is able to reduce carbon footprint, cut product waste and support local economies.
Parker Robinson at Zensah says, "Outdoors athletes want to push their limits, and Zensah's compression apparel helps them to do so. Our continued growth in the outdoor industry is a testament to the quality and technology behind our products."
Whether heading out for a weekend camping or bass fishing, Zensah's compression apparel makes a positive difference in muscle support and recovery. Zensah's product line includes compression leg sleeves, running sports bras, compression thigh sleeves, and arm sleeves. To purchase and learn more about Zensah, please visit your local specialty retailer or http://www.zensah.com.
About Zensah: Zensah® is a Miami-based company, specializing in sports compression apparel. Their seamless compression products are praised by athletes and fitness enthusiasts, including running, cycling, triathlon, yoga, basketball, golf, and soccer. Zensah® offers compression products for performance and recovery. According to Leisure Trends Group Specialty Running RetailTRAK™, Zensah® is the number one selling Compression Leg Sleeves in the USA for Running Specialty.
Parker Robinson
marketing(at)zensah(dot)com
ZENSAH® COMPRESSION APPAREL
(305) 935-4619