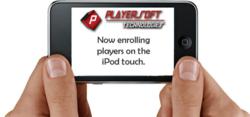 Playersoft team members all come from rich casino backgrounds and understand the current operational needs of our clients.
San Diego, CA (PRWEB) June 30, 2013
Playersoft Technologies is expanding its customer service by adding Chris Jarvis as Vice President of Professional Services to its team. Jarvis is yet another member of the Playersoft staff with deep roots in the gaming industry with major Las Vegas Strip properties.
Prior to joining Playersoft, Jarvis has spent 30 years in IT, 18 of those years leading IT departments for Bally's, Paris, Flamingo Hilton and The Palms, all major properties in Las Vegas. "My experiences with these companies have given me insight on how the products Playersoft is developing can help gaming operators of any size," said Jarvis.
"Chris' understanding of all IT operations will work in concert with Playersoft's approach to providing intuitive products which are easy to learn for the frontline personnel and easy to maintain from an IT department's perspective," said Tony de Leon, President of Playersoft. "He's going to be a great asset not only for our company, but for the clients he's going to be able to assist."
Playersoft has continued to experience tremendous growth in 2013, as new clients look to refine their customer service and tracking capabilities with Playersoft products like Mobile Enrollment and Group Tracker. "As we install our products, Playersoft team members coordinating with Chris work along side the casino employee on the floor providing training which includes ways to improve customer service utilizing the Playersoft systems," said de Leon.
Having the right talent has helped Playersoft in the development of its innovative products, evident in two awards for its Mobile Enrollment platform by the gaming press. In October 2012, Gaming and Leisure honored Playersoft with its prestigious "Platinum Award" followed by Casino Journal voting Mobile Enrollment as one of its "Top 20 Most Innovative Gaming Technology Products" in March 2013.
Playersoft Technologies focuses on creating software systems to streamline all aspects of the fast moving casino industry. "We come from a background of casino operations," said VP of Technology, Hunter Hunstock. "We are committed to creating highly integrated, reliable, accurate systems focused on making gaming operations more profitable while at the same time enhancing guest service."