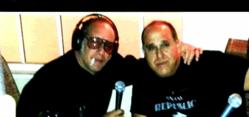 Las Vegas, Nevada (PRWEB) June 29, 2013
What else can you expect from the most controversial comedy legend of our time and his long time sidekick and best friend? Comedians Andrew Dice Clay and Michael Wheels Parise have been making a lot of noise in the podcast community with their show, "Rollin With Dice and Wheels."
The concept of the show is: Dice and Wheels are always "Rollin" to different spots to do the podcast. Weather it be 80 miles out in the Nevada desert fighting off wolves, a foreclosed home that they hopped the fence and had a BBQ, in front of a pizzeria in Beverly Hills, a gang infested neighborhood in Las Vegas or even at the Diceman's house in Los Angeles, just to name a few, these two will do a podcast just about anywhere if given the opportunity.
The show airs every Wednesday and Saturday on the internet on sites like, iTunes, Stitcher Radio and Soundcloud as well the official site, "Rollin With Dice and Wheels."
The show promises you will have the most hysterical time a human can have listening to any podcast and it is of extreme adult nature. Celebrity guests will also be a bonus, Dice and Wheels already interviewed Comedians Tom Green and Andy Dick. Fasten your seat-belts and take a ride on the Dice and Wheels train! Hop on...if you dare!
About Michael Wheels Parise and Andrew Dice Clay; You can follow them on twitter: @therealdiceclay and @ wheelslive