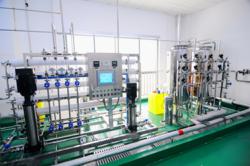 Santa Cruz, California (PRWEB) June 30, 2013
Clean Water Systems & Stores Inc, an innovative supplier of water purification systems, has announced it now has more than 10,000 customers using its unique line of commercial and residential well water purification and treatment systems.
Since 1989 the company has been designing and supplying custom treatment plants and systems for customers in the U.S, Canada and many other countries around the world. The company now has more than 10,000 customers using its systems to improve their water quality.
According to the U.S. Environmental Protection Agency, "Approximately 15 percent of Americans rely on their own private drinking water supplies, and these supplies are not subject to EPA standards, although some state and local governments do set rules to protect users of these wells."
Millions of families and businesses worldwide depend on high quality water from their water wells and private water sources. Private ground water wells can provide clean, safe, potable water. However, well water can also become contaminated, leading to disease and illness. It is the responsibility of well owners to maintain and treat their well water when problems arise and Clean Water Systems provides free expert help and assistance to these customers by chat, phone, email and Skype.
The company has not only built and supplied these water treatment systems for homes but also for U.S. Consulates, U.S. Military applications, National and State Parks, small communities, and many other government and commercial applications requiring water quality treatment systems. The company has pioneered the use of no salt water conditioners, low salt water softeners and water-saving purification devices since 1988.
Clean Water Systems has developed a systematic 3 step approach to water treatment applications including water analysis, system design, and after sale support and quality testing for customers. This innovative approach not only means that the end-users get the correct system for the job, but also helps insure continued high quality water by providing water quality testing and technical support.
"We are glad to see we have passed the 10,000 customer mark and I want to thank our customers for their business, and our outstanding staff for their hard work and effort" said Peter G Bulfin, President of Clean Water Systems & Stores Inc.
Clean Water Systems & Stores Inc specializes in water treatment systems for contaminated well water in North America and around the world. The company provides custom easy-to-install whole house water treatment systems and commercial filtration plants in a large variety of different types and configurations including systems for removing iron, manganese, sand, odors, bacteria, turbidity and sediment.