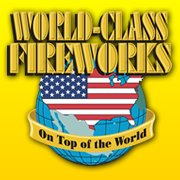 ANDOVER, Kans. (PRWEB) June 29, 2013
Wholesale Fireworks is now open at all retail locations to service July 4th Fireworks orders. Wholesale Fireworks, currently operating in five states, sells primarily World-Class brand Fireworks at wholesale prices to the general public as they have for eighteen years.
"We're excited to have World-Class [brand] products on-our-shelves," said Larry Hale, Wholesale Fireworks. "By carrying the best fireworks in the world, such as the Excalibur, our customers know they are getting good quality pyrotechnics to celebrate our country's Independence!"
Wholesale Fireworks started the 2013 season Thursday June 27th and will remain open until July 5th at the retail headquarters in Andover, Kansas and select roadside-firework-stands where supplies last. Approximately 90% of consumer firework sales occur between the end of June and the beginning of July and is accountable for a portion of local economies and to serve as local fundraising opportunities.
"Wholesale Fireworks helps local churches and schools raise money for missionary work and after-school programs," Larry Hale mentions. "We always look forward to giving back to the communities that support us and remain loyal year-after-year," Hale concludes.
For Wholesale Fireworks products and fundraising opportunities, please visit wholesalefireworks.biz.
About Wholesale Fireworks:
Wholesale Fireworks operates out of Andover, Kansas with retail and roadside firework outlets in Kansas, Missouri, Oklahoma, Texas and Nebraska and is America's premier wholesale firework store. Wholesale Fireworks offers customers The VIP Club completely free with no obligation to purchase. No login or passwords required simply sign up for Wholesale Fireworks VIP Coupons and offers.
About World-Class Fireworks:
World-Class brand Fireworks is one of the leading manufacturers of wholesale and retail fireworks in the United States. World-Class provides a variety of products for wholesale customers, including distribution of World-Class Fireworks, private label, bulk container, and other custom firework requests. With distribution centers across the nation World-Class provides the best quality wholesale firework products available.
A true innovator in fireworks production, World-Class brand Fireworks continues to lead the industry in product development. World-Class takes pride in making cutting-edge pyrotechnics, including popular artillery-shell-kits, new 500-gram cakes, and affordable 200-gram options – World-Class provides distributors with the best fireworks in the business. With thousands of retail and wholesale distributors across the globe, World-Class continues to develop the best quality pyrotechnics available.
Media Contact:
Karl Hirsch
323-410-7444 x104