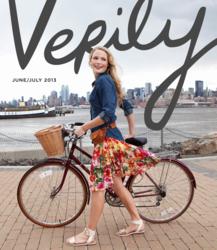 It's time for more meaningful media for women.
Indianapolis, IN (PRWEB) June 28, 2013
It's no secret that people plug into the digital space for information and friendship. This spells opportunity for Indy-native Janet Sahm, co-founder and style editor of new fashion and lifestyle print magazine, Verily, which launched last month.
Janet, along with editor-in-chief Kara Eschbach, are meeting with exceptional bloggers and women in media on June 29, 11:00 am at Hubbard and Cravens, to talk about how they're harnessing digital media to build communities of authenticity and strength for women. Each lady comes from a unique perspective to enrich the conversation.
Sahm is no stranger to the ways media can impact women. After a grueling yearlong internship at Elle Magazine, Sahm decided to create an alternative "meaningful media" magazine to help women become the "best version of themselves" and live authentically.
The result is both a print magazine and a vibrant online digital community that provides a space for conversations on what it means to live as authentic women. Showcasing fashion that is worthy of the woman, relationship advice that goes beyond sex tips, strong culture and lifestyle journalism, one reader said, "I didn't even know I wanted this until I saw it" while the New York Post called Verily "what women want from a magazine."
The conversation at the brunch promises to be vibrant and may be a real game-changer in the ways women conceptualize the opportunity to utilize the digital space and build strong communities of authenticity with real women.
Please contact ashley(at)verilymag(dot)com if you would like to speak with either Janet or Kara to get their take on how a fashion magazine can build strong communities and empower women to live authentically.