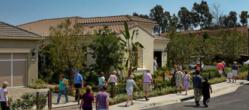 San Juan, Capistrano (PRWEB) June 30, 2013
On Saturday, June 29, more than 5,000 homeshoppers attended the first day of the weekend grand opening celebration for the 14,000-home inter-generational, planned community of Rancho Mission Viejo on a working 23,000-acre ranch in South Orange County, CA.
Destined to become one of the largest planned communities in America, Rancho Mission Viejo ("The Ranch") will be integrated with approximately 17,000 acres of protected open space within The Reserve at Rancho Mission Viejo as well as sites for new schools, parks and recreational facilities, up to five million square feet of commercial uses, and a network of hiking/biking trails.
In addition, up to 6,000 of The Ranch's 14,000 new homes for sale will be dedicated exclusively to homebuyers age 55+, with those neighborhoods set within The Ranch's inter-generational villages, beginning with the village of Sendero, which grand opens to the public this weekend.
"This grand opening represents the public debut and demonstration of how inter-generational living will be experienced on The Ranch," said Paul Johnson, Sr. Vice President of Community Development for Rancho Mission Viejo, LLC, stewards of Rancho Mission Viejo and community master planners/developers. "Beginning with our first village of Sendero, The Ranch will become a place where people of all life stages can connect based on their shared interests and passions – and all within a brand new community surrounded by the wide open spaces of The Reserve, on Orange County's last working ranch, and in scenic South Orange County. We are so pleased to be able to celebrate the grand opening of The Ranch with the start of home sales at Sendero this weekend."
Encompassing nearly 690 acres, The Ranch's first village of Sendero offers 11 different residential neighborhoods crafted by eight different homebuilders including four neighborhoods of primarily single story 55+ homes within the small enclave of Gavilan. At build-out, Sendero will include 941 attached and detached homes (including the 286 55+ homes) plus approximately 285 apartment units by Western National Group. The eight neighborhood builders at Sendero include Del Webb, Meritage Homes, Ryland Homes, SeaCountry Homes, Shea Homes, Standard Pacific Homes, TriPointe Homes, and William Lyon Homes. Sendero home prices currently range from the $300,000s to under $1 million.
Throughout Saturday, June 29, more than 5,000 homeshoppers toured the model homes at Sendero, visited the Guest House information center, and were provided with "sneak peek" introductions to the clubhouses already completed at El Prado, the recreational and social heart of Sendero. Also open for homeshopper enjoyment was a large village green and the northern and southern alignments of El Paseo, the primary pathways within Sendero which includes tot lots and picnic areas, turf playgrounds, a native plant garden, and even a putting green.
Translated from Spanish, Sendero means "the path," which represents both its Paseos and future linkages to a network of hiking/biking trails accessing Reserve trails and a County Regional hiking and biking trails system. Also planned for Sendero are a 15-acre community park, the 10-acre Ranch Marketplace retail plaza, the vegetable and fruit gardens of Sendero Farm, and a fire station.
Sendero on The Ranch is located just 2.3 miles from downtown San Juan Capistrano and five miles from San Clemente and Doheny State Beach, with easy access provided to the employment and retail centers of Ladera Ranch, Mission Viejo, Irvine, Rancho Santa Margarita and other Orange County areas.
To learn more about Rancho Mission Viejo and Sendero, please visit http://www.RanchoMissionViejo.com.
Rancho Mission Viejo, LLC is a privately held, family-owned and -operated company responsible for the ranching, farming, planning, development, and financial management of the remaining 23,000 acres of Rancho Mission Viejo, situated in unincorporated South Orange County, CA. Since 1882, members of the O'Neill/Avery/Moiso family have owned and managed The Ranch which once exceeded 200,000 acres and now includes the family-developed cities and communities of Ladera Ranch, Las Flores, Mission Viejo and Rancho Santa Margarita as well as such important places as Caspers Wilderness Regional Park, the Starr Ranch Audubon Sanctuary, O'Neill Regional Park and Marine Corps Base Camp Pendleton.
Development on the Ranch is a partnership between Rancho Mission Viejo, LLC (managing partner) and DMB Associates, an Arizona-based, diversified real estate company with commercial property/resort/recreational/primary home community holdings throughout Arizona, California, Hawaii and Utah.