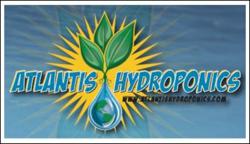 (PRWEB) June 30, 2013
Atlantis Hydroponics now offers new grow room design kits that allow gardening enthusiasts to use hydroponics to grow their favorite vegetables, fruits or other plants all year, regardless of climate or temperature.
Hydroponic gardening is becoming increasingly popular as the technology becomes more affordable and user friendly. Indoor, hydroponic grow rooms allow gardeners to grow anything they want, anywhere they want. Hydroponic grow systems that work indoors also allow gardeners to reduce their need for environmentally harmful pesticides and fertilizers.
The new grow tents and grow room designs offered by Atlantis Hydroponics make the wonders of hydroponic gardening available to a wider audience, as these designs make it easy to set up an indoor gardening operation in a home.
The indoor grow tents offered by Atlantis make it easy for gardeners to have a small indoor area about the size of a dorm refrigerator where they can grow plants in a climate and CO2 controlled environment.
Atlantis' blueprints and kits for larger grow rooms allow gardening enthusiasts to renovate areas of their home to create the optimal environment for cultivating vegetables, fruits, herbs and more. Inside a grow room, gardeners can use grow lights, climate control systems, CO2 regulator devices, hydroponic drip systems and more to grow larger, more beautiful plants in a shorter time than conventional soil growing.
Atlantis' new grow room kits are easy to understand, and include the fans, hoses, lights, trays and other equipment indoor gardening enthusiasts will need to build a successful indoor growing facility. The kits come in varying sizes and prices, making them accessible to a broad base of customers. They're also highly adaptable, and designs can be altered to fit the individual circumstances of customers' homes.
With a new design kit from Atlantis, gardeners can wed technology and nature and begin growing high quality vegetables, fruits and other plants quickly, efficiently and in an environmentally responsible manner.
About Atlantis Hydroponics
Located in Atlanta, Ga., Atlantis Hydroponics has been working for 15 years to educate the public about the environmental and other benefits of hydroponic gardening and facilitate its spread by providing high quality equipment to our customers. In addition to our gardening products, we also offer beer brewing and wine making gear for enthusiasts. For additional information, visit http://www.atlantishydroponics.com/