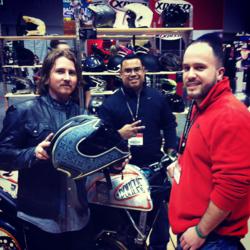 Roland Sands makes an incredible product that exceeds our standards in quality and design.
West New York, NJ (PRWEB) June 30, 2013
Roland Sands Design is a Motorcycle apparel and parts company based out of California. They are best known for their contemporary yet nostalgic take on motorcycle leather Jackets and gloves. Roland Sands has won over fans from all riding styles throughout the world.
They are unique within the motorcycle culture for their passion for style and building custom motorcycles, notably their cafe racers. Rolands Sands has built custom motorcycles for companies like Ducati, Dunlop, Harley-Davidson, Piaggio, and Triumph. This is a company built by a true motorcycle enthusiast. New for 2013 are five men's motorcycle jackets, the Barfly, Enzo, Fubar, Hesher 2, Vandal, and two new ladies motorcycle jackets, the Maven and Vada. These new motorcycle jackets continue the Roland Sands American design, and American inspired tradition.
Julio Grullon, Motochanic Co-Founder:
"Roland Sands makes an incredible product that exceeds our standards in quality and design."
Vintage motorcycle leather jackets are back and Roland Sands is adding a modern twist to them. The attention to detail in the pre-curved sleeves, the oiled leather ranging from 1.2mm to 4mm in thickness and the armor-ready shoulder, elbow and back makes these new jackets a lifestyle product. Whether you're with friends on a casual night out or riding your motorcycle on the open road, Roland Sands delivers a jacket that only riders could have designed. The complete Roland Sands Motorcycle Apparel Collection is now available at Motochanic.com
http://www.motochanic.com/brands/Roland-Sands-Design.html
About Motochanic
Motochanic is the premier motorcycle dealer in the New York, New Jersey and Connecticut Tri-State area. Motochanic specializes in motorcycle helmets and protective gear, from premium brands like Alpinestars, Arai, Bell, Dainese, AGV, Fox Racing, Gerbings heated gear, Revit, Shoei, Schuberth and Klim.