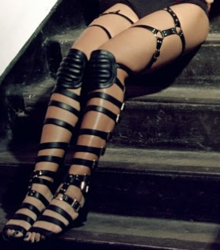 Now to be featured on TV's Project Runway, over 60 pair of bold and sexy "Dogma" thigh-high sandals by Haus Von Lila™ were pre-sold before the first shipment even arrived in the US.
Atlanta, GA (PRWEB) June 28, 2013
The "Dogma" thigh-high style sandals by Haus Von Lila™ that turned so many heads at the recent Magic Shoe Exhibition in Las Vegas have now be selected to be featured in an upcoming production of TV's Project Runway fashion designer show, currently expected to air in mid-August, according to Winnie Peng of http://www.Shoe-Manufacturer.com.
"This is the design that had footwear executives and buyers from around the world doubling back to take a second look at the recent Magic Footwear Exhibition in Las Vegas earlier this year," says Peng, "so it's no surprise that they have been selected to be featured by TV's Project Runway."
These unique and daring convertible thigh-high sandals feature a crisscross pattern in glossy black that span from foot to thigh and incorporate a black "knee patch" to complete the bold look.
Peng continues, "We think there will be a lot of interest in the Dogma style from collectors of specialty designer footwear across the US as this is such a striking design.
Over 60 pair of bold and sexy Dogma thigh-high sandals by Haus Von Lila™ had already been pre-sold before the shipment has even arrived.
Security procedures were reportedly strictly enforced by http://www.Shoe-Manufacturer.com at the shoe factory during production to prevent outsiders from grabbing this bold design and copying it before Haus Von Lila™ has been able to establish it in the market.
"As is often the case for new designs, this first production run of Dogma is of limited quantity in order to get it into the market for the summer sales season", says Peng.
"Consequently, collectors of specialty designer footwear and especially those who want an exciting, bold look to complement their summer outfits would be well advised to contact Haus Von Lila™ right away to reserve a pair of Dogma thigh-high sandals from this first shipment to avoid finding them sold out.
"We at Shoe-Manufacturer.com congratulate Haus Von Lila™ on their Dogma thigh-high sandals design and for being chosen to be featured on TV's Project Runway shoe. We look forward to many more exciting designs to come."
About:
Shoe-Manufactuer.com specializes in specialty designer footwear manufacture in both traditional and athletic shoe categories.
Winnie Peng is expert in garment and footwear manufacturing and Senior Project Manager for China Product Sourcing and Marketing Ltd. (CPSM), fashion manufacturer and leading producer of footwear for independent designers and footwear importers around the world, Shoe-Manufacturer.com. She was previously Senior Inspector of Quality Control and Corporate Compliance for Best Seller of Hong Kong, supplier of Europe's largest fashion retail group, Best Seller.
Contact:
Winnie Peng (pronounced "Phung")
email: winnie(dot)chinaproduct(at)gmail(dot)com
Tel (USA) 1- 336-775-8615,
Tel (China) 136-6233-4753
Skype: winniethepooh9
About:
Lexis Global News (LGN) features current items of interest in business, technology, manufacturing, health and wellness, education, fashion, travel and life style.
LGM is a division of Lexis Global Marketing LLC.
http://www.lexisglobalnews.com/
Contact: Robert Allen
Lexis Global News
Tel 1-336-775-8617
Email: featurerseditor(at)lexisglobalnews(dot)com
Address: 931-B South Main St., Suite 154
Kernersville NC USA 27284