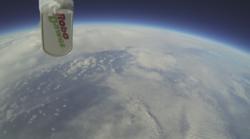 "A NASA rocket has already carried a DawgTag into outer space, but within a few years the RoboDawgs will take another DawgTag to space - without the assistance of any government or commercial launch company.
Grandville, Michigan (PRWEB) June 29, 2013
The Grandville High School RoboDawgs are among the best-known high school robotics teams in the country. For years they have competed all over North America, and along the way they have given out thousands of DawgTags to fans. These brightly-colored metal dog tags come in many colors and styles, with new styles introduced each year. DawgTags have been seen in photographs from more than a dozen countries.
Last summer a RoboDawgs DawgTag traveled aboard a NASA sounding rocket, reaching an altitude of more than 135 kilometers. This is the highest altitude for a DawgTag recorded to date.
During June, the RoboDawgs began their Race to Space. This team, which has developed remote controlled and fully autonomous land and water drones, has now begun to push toward space. While graduates from the RoboDawgs program have been involved with NASA research launches, the team itself had never worked with anything that traveled higher than a radio-controlled plane.
The RoboDawgs set a new altitude record for a DawgTag within the earth's atmosphere. The team attained an altitude of just over 100,000 feet during the week of June 10 using a high altitude weather balloon. The RoboDawgs' high altitude balloon launches carry a payload including high resolution cameras, GPS tracking devices, and instruments to gather data to support specific research agendas.
With three launches behind them, the RoboDawgs have a summer launch schedule that will include at least three more attempts to gather data and high resolution images of Earth - and to set new altitude records for their DawgTags!.
The RoboDawgs Space Team Alpha included; Steven Aldrich, Lucas Buck, Grason Cheydleur, Morrie Cunningham, Frank Dara, Ben Licata, Nick Parks, Sophie Potter, Brittany Van Tuinen, David Vysotskiy, and Brandon Blue,
The RoboDawgs Space Team Beta included: Dakota Hamilton, Josh Leaver, Rebecca Licata, David Parks, Fred Pokora, Morgan Senkowski, Raghav Sharma, Tyler Simonte, Jason Van Oeveren, and Austin Senkowski
The RoboDawgs Space Team Omega included: Mike Hepfer, Jackson Bargenquast, Jackie Burch, Hughston Felde, Clark Fischer, Heath Haverdink, Jordon Holt, Tyler Jack-Shilling , Annika Rolo, Vinnie Spica, Teddy Tran, and Karen Perea
******************************
Grandville Public Schools has been a leader in educational robotics for more than 15 years. Beginning with one high school robotics team in 1998, the district's program has now grown to include more than 30 teams. More than 500 students, from fourth through twelfth grades, participate on Grandville robotics teams, designing, building, and programming robotics for competitions around the world. Grandville has one of largest Lego League programs in the country, with the District fielding 18 teams this year. These students go on to compete in the District's VEX Robotics program at the middle school level, as well as the FIRST Robotics competition and the Great American River Race at the high school level. This fall, Grandville High School will introduce its first robotics course into the high school curriculum. This course, 'Robotics and Applied Science," is a ground-breaking, college-level engineering class that will help prepare Grandville students as they move on to study science and engineering at leading universities across the country. The Grandville Academic Team Boosters provide financial, technical, and coaching support for the Grandville robotics teams and other academic teams in West Michigan.