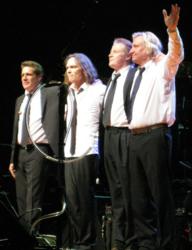 New York, NY (PRWEB) June 29, 2013
Legendary Rock band The Eagles will be adding more tour schedules and dates to their already extensive History of the Eagles Tour. Ten more dates have been added to the set of shows and their blockbuster tour will start in Louisville, Kentucky on July 6th. The tour was supposed to originally end on October 24th; however, the group decided to add more shows in cities such as: Toronto, Montreal, Birmingham, New York, Tampa, Orlando, Miami, Greensboro and Charlotte. The Eagles 2013 tour will officially end in Orlando on November 23, 2013.
With an already impressive career and history, their series of shows is a tie-up to their DVD and Blu-ray documentary "The History of the Eagles." The documentary follows the journey of the band from their rise in the music industry as well as showing the impressive highlights of their successful career.
Glenn Frey, Joe Walsh, Timothy B. Schmit, and Don Henley make up the group and they will all be back together to perform their hit singles such as "Take It To The Limit," "Lyin' Eyes," "Take It Easy," "New Kid In Town," "Hotel California," "Rocky Mountain Way," "One Of These Nights," and Best Of My Love."
The History of the Eagles is a documentary of the legendary rock band and is a three-disc set that is perfect for fans of the group and music enthusiasts alike. It also contains never-before-seen performances that were filmed during the groups two-night show at Washington D.C. during their legendary Hotel California Tour.
The Eagles have been proven to be a very long-lived band and has sold more than 120 million albums around the globe. As a group, they have won 6 Grammys and 5 #1 U.S. singles. Their Greatest Hits 1971-1975 is renowned as one of the best-selling albums of all time with sales reaching 29 million. They are revered as one of the greatest rock band of all time and have already been inducted in to the Rock & Roll Hall of Fame.
If you are a die-hard Eagles fan or simply want to relive the rock scene of the 70's then catch the extended tour of The Eagles. Book tickets now to catch them live in their full glory; it is unknown if they will be performing as a band together again after 2013.
The New Dates for The History of The Eagles Tour are below:
Nov. 4: Montreal, Bell Centre
Nov. 6: Toronto, Air Canada Centre
Nov. 8-9: New York, Madison Square Garden
Nov. 15: Charlotte, Time Warner Cable Arena
Nov. 16: Greensboro, N.C., Greensboro Coliseum
Nov. 18: Birmingham, Ala., BJCC Arena
Nov. 20: Tampa, Tampa Bay Times Forum
Nov. 22: Miami, American Airlines Arena
Nov. 23: Orlando, Amway Center
About CheapConcertTickets.me:
Cheap Concert Tickets delivers tickets to sold out concerts and events worldwide when no one else can, and they do so at discounted prices. As a member of TicketNetworkDirect, they can guarantee the delivery of tickets on time for sporting events like NASCAR, NBA, NFL, and NHL. This popular ticket exchange has cheap The Eagles concert tickets, Pink concert tickets and Justin Bieber concert tickets at great everyday low prices. With CheapConcertTickets.me customer service is a priority, for more information email support(at)cheapconcerttickets(dot)me.