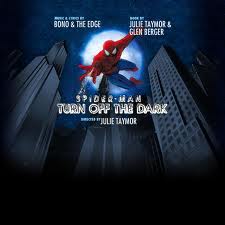 Spiderman at the Foxwoods Theater can be purchased for as low as $15 on tickethunteronline.com
New York, NY (PRWEB) June 29, 2013
Spiderman Turn Off the Dark Broadway tickets at the Foxwoods Theater get a promotional discount from Ticket Hunter Online. The discount concert ticket seller is pushing the Spiderman Musical as part of an ongoing Broadway discount. The promotion also includes Wicked the Musical tickets, Book of Mormon tickets and Kinky Boots tickets. Fans can get the discount to all Broadway shows by going to tickethunteronline.com and entering "wicked" at check out.
Discount Broadway tickets are being offered by Ticket Hunter Online to incentives customer to see musicals. The Los Angeles based ticket seller says Broadway demand has slowed down as a result of the release of many blockbuster summer movies.
"We're offering the promotion to Spiderman Broadway but we currently have the largest inventory of all major Broadway tickets including: Kinky Boots tickets, Wicked tickets and Lion King tickets. The bottom line is that we would like to see more musical sales. There's a lot of competition for people's attention especially with all the summer movies. Often times fans ask- Where can I buy cheap discount Matilda tickets? Similar to the Broadway Tckts booth, we want to offer a cheap alternative for live entertainment," stated Michael Quinones CEO of Ticket Hunter Online.
Spider Man: Turn Off the Dark was one of the most anticipated shows brought to the Foxwoods Theater in the 10 years, as the show brought the music by U2's Bono and The Edge. Although rock musicians and Broadway seem to be an odd match.
The Lion King director Julie Taymor came to the project. However, even with this all-star production team, Spider-Man: Turn Off the Dark almost never made it off the ground because of production delays and a massive production cost. Money was not the only problem faced by the show, as the complicated flying sequences and stunts caused several injuries to cast members, all of whom have since recovered.
Spiderman at the Foxwoods Theater can be purchased for as low as $15 on http://www.tickethunteronline.com with promo code "wicked."