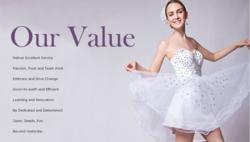 (PRWEB) June 29, 2013
MyDressCity, a leading wedding dress manufacturer and retailer, has recently released its new collection of prom dresses. Today, the company announces big discounts on all these elegant prom dresses, up to 59% off.
MyDressCity aims to provide the most popular prom dresses to its customers worldwide, and its dresses sell well in the market for the fashionable styles, graceful looks and dedicated craftsmanship. At the same time, MyDressCity is regarded by many people as a leader in prom dresses and other special-occasion dresses.
"We are happy to say that all our prom dresses are offered at greatly discounted prices before July 15, 2013. The special offer provides each customer the opportunity to buy cheap prom dresses. The dresses, which allow you to show off your style in an economic way, are specially crafted with utmost care and with innovative designs and styles," says, a spokesman for the company.
MyDressCity.com sells all kinds of special occasion dresses for women at its online store, and people can here find many wedding guest dresses, Quinceanera dama dresses, bridesmaid dresses, short homecoming dresses, evening dresses, and more. The addition of the new prom dresses will definitely add flowers to the brocade.
About MyDressCity
MyDressCity specializes in the manufacture and retail of all kinds of women's dresses. The company is a forward-thinking firm, and its goal is to make women feel confident, sexy, and contemporary. MyDressCity is trying to offer its customers more choices with affordable prices, and they accept customers' own designs as well.
For more information, please visit http://www.mydresscity.com.