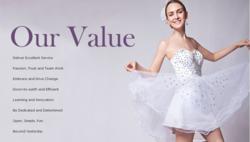 (PRWEB) June 29, 2013
DressyProm.com, a renowned wedding dress manufacturer, has recently released its new collection of traditional Quinceanera dresses, and announced a site-wide dress promotion. Now, all its pretty Quinceanera dresses are offered with big discounts, up to 60% off.
DressyProm.com aims to provide perfect Quinceanera dresses to its customers, and has been regarded as a leader in the industry. The recently released collection of traditional Quinceanera dresses comes in many different designs, like tartan, stripes, floral patterns, polka dots, and solid colors.
The updated website of DressyProm.com provides consumers with choices for how they find products and services. Instead of going straight to big chain stores, consumers can go to DressyProm.com to find and support entrepreneurs providing those products and services.
"We are excited to announce our new collection, and are excited to launch the promotion to make our dresses available to more clients. We are offering customers a more time efficient and enjoyable way to buy prom dresses online. Moreover, new products are released weekly at DressyProm," says, the CEO of the company.
DressyProm.com is very famous in the industry of wedding dresses, and has a team of dress experts, who have professional skills and unlimited creativity in dressmaking. DressyProm.com is selling thousands of different outfits (first communion dresses, Quinceanera dresses, etc.) on its website.
About DressyProm.com
DressyProm.com is one of the world's leading wedding dress manufactures and retailers, offering a wide range of wedding dresses, bridesmaid dresses, evening dresses, cocktail dresses, and more. The company aims to deliver ladies worldwide all kinds of dresses at acceptable prices.
More information can be found at: http://www.dressyprom.com