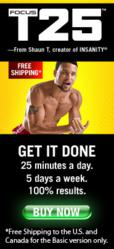 Focus T25 is just 25 minutes a day, 5 days a week, with 100% of the results.
Las Vegas, NV (PRWEB) June 29, 2013
The popular Insanity workout by Shaun T has been compressed into 25 minutes and improved upon in the new Focus T25 workout program.
25 minutes is about half of the time of Insanity workouts on average.
It was created to address the #1 excuse people have for not working out, which is lack of time, according to Shaun T.
Whether someone has a job, takes care of kids, or is a student, the day is filled with related activities and taking care of personal matters, leaving little time left for keeping in physically fit. Focus T25 being only 25 minutes per workout, fits into that little window of time people can make time for in their day.
Focus T25 is just 25 minutes a day, five days a week, with 100% of the results. It's high-intensity and with no breaks like the 30-second breaks in Insanity workouts. This is to get the workout over and done with faster. Shaun T focuses on working out a muscle group until it gets tired, then moves to a fresh muscle group, to provide a full-body workout. This maximizes the body's calorie burn-rate to burn fat.
Test group results of Insanity vs. Focus T25 show the results are the same, with people losing significant weight and getting shredded six-pack abs, as seen in the commercials.
In terms of total time comparing the two programs, in the Insanity commercial, Shaun T states "This program's designed for a 60 day full body transformation, where in 60 days, I can get you to what takes most people a year." Focus T25 is just 50 days of working out.
There are two stages of 25 days each in the Focus T25 Base version: Alpha and Beta. The Alpha stage focuses on proper movements to create perfect form for perfect practice. The Beta stage speeds up and focuses on the core muscle groups like abs.
Tania, from the Insanity DVDs, also appears in T25 as the "modifier" for people who need a less-strenuous workout.
The optional Gamma stage, which is sold separately as an upgrade, focuses on muscle building using weights.
The CEO of Beachbody, Carl Daikeler, said at the 2013 Team Beachbody Coach Summit in Las Vegas, "This program is going to revolutionize this company."
Sales of Focus T25 have been very strong so far, selling out the 1,000 copies at the Summit and selling strongly online through independent Beachbody distributors. It's currently the #1 top seller and the Base version comes with free shipping at the Independent Beachbody Store http://HelpMeGetFit.com.
About HelpMeGetFit.com:
HelpMeGetFit.com is an Independent Beachbody Distributor that offers the full range of over 300 Beachbody products at the lowest prices possible. For more information, please visit HelpMeGetFit.com.