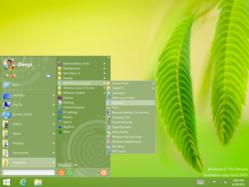 On a freshly-installed computer with Windows 8.1, the names of the applications do not fit on the screen.
(PRWEB) June 30, 2013
OrdinarySoft is releasing a version of Start Menu X compatible with Windows 8.1.
The new Windows 8.1 reintroduced the Start button, and access to desktop applications is improved. Unfortunately this solution is best suited for people who use a limited number of programs. So for professional users, Start Menu X is still an essential tool.
Start Menu X, a Windows Start Menu replacement program that adds a powerful, customizable Start Menu to Windows 8, 7, Vista, or XP. Unlike other Windows Start Menu replacement applications, Start Menu X does more than simply add a Windows 7 look-alike Start Menu onto a Windows 8 system. Start Menu X enhances the functionality of the Start Menu, and lets you find and launch applications quickly and easily, even on computers with hundreds of programs installed.
Those who use more programs may have difficulties, even with the new Windows 8.1, since the program list is full of clutter. On a freshly-installed computer, the names of the applications do not fit on the screen.
Start Menu X uses the screen more economically, thus enabling the easy use of touchscreen devices.
The new Windows 8.1, even more than its predecessors, illustrates the trend toward dispersed access zones. For example: To launch a program, you need to open the Start Screen. To access a document you need to already have launched the Windows Explorer. But administrative tools are available by right-clicking on the Start button.
Start Menu X, by contrast, allows access to any corner of your computer from one place — the Start button. And it's easy to customize by adding folders.
The free version of Start Menu X installs a Start Menu in Windows 8 that is much more powerful than competitive Windows 8 programs that simply restore the Start Menu. The freeware version lets users move their favorite programs into predefined categories so they can be located and launched more quickly. The Pro version costs $9.99(US) for a single-user license, and allows users to add and change virtual group categories, launch programs with a single click, sort the files within groups, and of course restore a Start Menu to Windows 8.
Whether you're a home computer user who wants to install the Start Menu that Microsoft neglected to include in Windows 8, an entrepreneur who needs a more efficient way to find and launch programs in Windows XP, Vista, or Windows 7, or a student who wants to run a computer more efficiently by replacing Microsoft's underpowered Start menu with a full-functioned one, Start Menu X has the tools that you need.