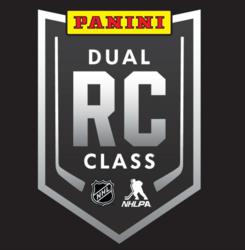 Irving, Texas (PRWEB) June 29, 2013
Panini America (http://www.paniniamerica.net), the world's largest sports and entertainment collectibles company and an official licensee of the NHL and NHLPA, unveiled a special 2013-14 Double Rookie Class logo in advance of Sunday's 2013 NHL Entry Draft.
The Panini Double Rookie Class logo will appear on all Panini 2013-14 NHL trading card product packaging, serve as a key identifier on rookie cards during the 2013-14 season and as part of all marketing and promotional initiatives. NHL fans can also follow all the excitement of the Double Rookie Class on Twitter at #PaniniDoubleRookieClass.
The top players from Sunday's draft who skate early in the season will join the headliners from last year's draft to create a unique Double Rookie Card Class for all of Panini America's 2013-14 NHL products. Due to the shortened 2012-13 season, Panini America did not produce Rookie Cards for top 2012 draft picks such as Nail Yakupov and Alex Galchenyuk. Those players' first officially licensed Rookie Cards will appear in Panini America's 2013-14 Score Hockey, which releases in late July and will be available at retailers and hobby shops throughout the U.S. and Canada.
"We can't wait for the NHL and NHL Players to get back on the ice after a great Stanley Cup Playoffs. The NHL/NHLPA Double Rookie Class represents a unique opportunity that will include more than a 100 rookies from the 2012-13 and 2013-14 seasons -- and that's before the excitement of Sunday's NHL Entry Draft," said Jason Howarth, Panini America Vice President of Marketing. "We felt the best way to highlight the significance of the Double Rookie Class was a unique logo that would differentiate to collectors that this upcoming season is a special and rare opportunity for Panini NHL trading cards and all trading card collectors."
ABOUT PANINI:
The Panini Group, established almost 50 years ago in Modena, Italy, has subsidiaries throughout Europe, Latin America and the United States. Panini is the world leader in officially licensed collectibles and is the most significant publisher of collectibles in the U.S., with official licenses for MLBPA, NBA, NFL, NHL, FIFA, USA Baseball, Disney, Nickelodeon, Warner Bros. and other key properties from many other licensors. Panini has distribution channels in more than 100 countries and employs a staff of over 800. For more information, visit us at http://www.paniniamerica.net, http://www.paninigroup.com or http://www.paniniamerica.wordpress.com. You can also follow Panini America on social media platforms Facebook, Twitter and on YouTube.
Panini America became the exclusive trading card partner of the NBA beginning with the 2009-10 season. The Panini Group purchased the industry's second-oldest trading-card company, Donruss, in March 2009 and formed the new subsidiary, Panini America, Inc. Since that time, Panini has taken significant steps to fortify its position in the sports card category as a whole and the basketball landscape in particular, including an exclusive marketing and advertising partnership with the Naismith Memorial Basketball Hall of Fame.
Panini America is the only company in the world that manufactures licensed trading cards and stickers for the NBA, NFL, NFL PLAYERS, NHL, NHLPA, MLBPA and FIFA World Cup. The company also has exclusive relationships with USA Baseball, USA Basketball and the U.S. Soccer Women's National Team. In addition, Panini also has relationships with the Naismith Memorial Basketball Hall of Fame, The Pro Football Hall of Fame and the National Baseball Hall of Fame and owns exclusive entertainment licenses with Disney, Justin Bieber and Michael Jackson, and more than 600 global licenses with other sports and entertainment properties.