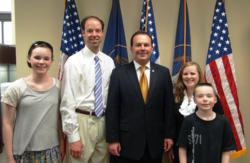 Robert Bolar is part of an elite group (3 percent of all REALTORS® hold the CRS designation).
Ogden, Utah 84414 (PRWEB) June 30, 2013
Robert Bolar, a leading sales associate with Coldwell Banker Residential Brokerage in Ogden, has earned the prestigious Certified Residential Specialist CRS designation from the National Association of Realtors. Bolar completed extensive training courses in residential sales to earn the designation. Roberts work and accomplishments at http://www.OwnUtah.com
Certified Residential Specialist (CRS) agents have proven record of success—3X success, in fact. Compared to the average REALTOR®, CRS agents have been in the business nearly three times longer, have three times the number of annual transactions, and generate three times the amount of gross sales. Robert is a proven leader in North Ogden City selling homes of all types.
Realtors who receive the CRS Designation have completed advanced courses and have demonstrated professional expertise in the field of residential real estate.
There's no coincidence when it comes to CRS success. CRS agents must meet stringent education and experience requirements. That's why only 3% of REALTORS® are Certified Residential Specialists. CRS agents are dedicated professionals. They work to ensure success for their home-buying and selling clients by tapping into their superior training, exceptional professional referral network, and timely and cutting edge industry resources.
Robert Bolar is a specialist in residential real estate who has been affiliated with Coldwell Banker Residential Brokerage Ogden for many years. Bolar is a trained and seasoned real estate professional. Robert Bolar has been serving the top of Utah for over 20 years. Robert has earned the Accredited Buyer's Representative (ABR), Broker Price Opinion Resource (BPOR), Certified Residential Specialist (CRS), Graduate Realtor Institute (GRI), Internet Real Estate Professional (e-PRO) Robert is also a Certified State of Utah Real Estate Instructor. Robert has a well-rounded education and demonstrates passion in his work.
OwnUtah.com, a leading residential real estate website in Utah. OwnUtah.com has listings on it from more than 9,000 sales associates serving the communities of the greater Wasatch Front. The company offers residential and commercial brokerage, corporate relocation and mortgage services available on the site. Through its internationally renowned Coldwell Banker Previews® program, the company is widely recognized for its expertise in the luxury housing market. Visit Coldwell Banker Residential Brokerage, online at http://www.OwnUtah.com For more information, please visit http://www.OwnUtah.com or call Robert Bolar at 801-737-3333.