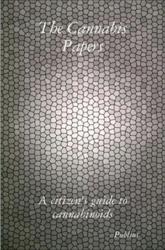 Amazing – science is highlighting the main pathways to telling cancer cells to stop being cancer cells – and it's the CS.
Chicago, IL (PRWEB) June 30, 2013
With 2013 reaching its mid-point, the authors of The Cannabis Papers: A citizen's guide to cannabinoids (2011), ask Americans to practice cancer and cannabinoid system (CS) awareness this summer by doing the political thing – talk about cancer and cannabis.
The American Cancer Society reports that in 2013 more than 1.6 million Americans will be diagnosed with cancer and nearly 600,000, or about 1,600 a day, will die, making cancer the nation's second leading cause of death.
"We're at the political point in our national cannabis conversation," observed Steve Young, one of the many writers of The Cannabis Papers and author of Maximizing Harm: Losers and Winners in the Drug War (2000). "When a critical mass is achieved, step-by-step and conversation-by-conversation, truth takes on a life of its own."
"Nationally," Young continued, "we'd be wise to let cannabinoid science lead our cannabis politics."
April 2013 research published by Trends in Pharmacological Sciences supports such a thesis. The abstract for "The endocannabinoid signaling system in cancer" notes: "The endocannabinoid system, comprising lipid-derived endocannabinoids, their G-protein-coupled receptors (GPCRs), and the enzymes for their metabolism, is emerging as a promising therapeutic target in cancer."
Further: "This report highlights the main signaling pathways for the antitumor effects of the endocannabinoid system in cancer and its basic role in cancer pathogenesis, and discusses the alternative view of cannabinoid receptors as tumor promoters."
"Amazing – " claimed Young, "science is highlighting the main pathways to telling cancer cells to stop being cancer cells – and it's the CS. The signaling, and mis-signaling, of the CS is central to understanding and stopping cancer."
This month, The Compassion Chronicles, in "Man with Cerebral Palsy Wheelchairs from Detroit to DC," reported on one citizen's efforts to raise awareness this summer; Curtis Kile lost family members to cancer and is wheeling himself from Detroit to Washington DC in order to raise cancer and cannabis awareness. He hopes to arrive in DC this 4th of July.
"Kile has the idea," added Young, "and that's do what you can; if mentioning the CS when family and friends are gathered this summer works for you, then perhaps it's time to have that talk."