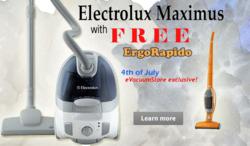 Boston, MA (PRWEB) June 30, 2013
In honor of Independence Day, eVacuumStore.com is unveiling an exclusive vacuum combination package. This exclusive package contains the sturdy and powerful Electrolux Maximus canister vacuum and the lightweight and versatile Electrolux ErgoRapido stick vacuum. At $529, eVacuumStore is trying to offer the best possible value to their loyal customers. These two vacuums would sell for about $700 if purchased separately. As for the reason that these two particular vacuums were packaged together, eVacuumStore manager Bob Evans said, "We just wanted to offer a package that embodies all the ideals of the Fourth of July…independence, freedom, liberty." He's referring to the versatility of the Maximus and the maneuverability of the Electrolux ErgoRapido.
The Electrolux Maximus EL4200A was released in 2011 to the delight of vacuum owners across the country. This unique canister vacuum is specialized for hardwood and smooth floor surfaces. However, its air-driven turbo nozzle also cleans low-pile carpets and area rugs effectively, making it quite a versatile machine. And with its precise, on-body suction control the Maximus is able to even clean delicate surfaces like tapestries and upholstery.
Although denoted the "bonus", the Electrolux ErgoRapido EL1014A is anything but an afterthought. The ErgoRapido series has been a top selling 2-in-1 stick vacuum since it was first released. The reason for its huge popularity comes from its removable hand vacuum, its cordless nature and lightweight body.
About eVacuumStore.com:
eVacuumStore.com is well-known to its patrons for specializing in sales, information, and even diagnostics and troubleshooting on vacuum cleaners, vacuum cleaner parts and accessories, as well as a wide variety of other cleaning products and machines such as steam cleaners and shampooers. With eVacuumStore prices already associating the company with bargain deals, discounts, and low prices, sales specific to this time of the year will make the popular internet destination all the more attractive to anybody looking to upgrade their vacuum cleaner, add to their arsenal of cleaning tools and accessories, or replace bags and filters that have fulfilled their duties inside the vacuum.