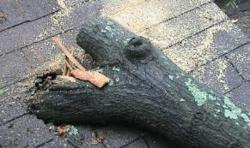 Your Emergency...is our Urgency!
Baltimore, MD (PRWEB) June 30, 2013
Tornado reports have been issued this week touching down on several parts of Maryland. A chorus of storms have crossed the region stemming from cold fronts which trigger thunderstorms which leads to flash flooding and the need for emergency services; this is an issue the East coast is facing for the next several months.
Power lines down, trees falling on roofs and roads, breaking windows, and let's not forget possible water damage, all dangerous, costly and an inconvenience. Let's face it, safety first, but the headaches associated with the aftermath is something to be dreaded.
Get the facts, have the knowledge and be prepared. Establish relations with an insurance company or agent and know who to call when disaster has struck a residents or commercial building; because it's never too soon to react when a crisis is to happen.
The National Weather forecasters and local news keeps you in the now, and ServiceMaster by Singer is here to have your emergency, our urgency for clean-up and rebuild needs.
ServiceMaster by Singer is a full-service restoration company serving the Baltimore Washington Metropolitan areas for over a decade. We are a leading restoration company providing water mitigation, fire damage restoration, mold remediation, complete construction services, storm damage restoration, crime – trauma cleaning, hoarder cleaning, and residential and commercial cleaning services. Call for more info: 855-5-Singer.