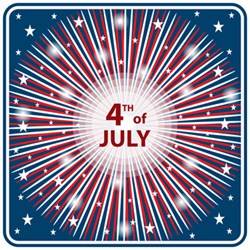 Newport Beach, California (PRWEB) June 30, 2013
While many Americans will safely commemorate the adoption of the Declaration of Independence, many others will be driving drunk or engaging in illegal activities. MacGregor & Collins criminal attorneys provide a 4th of July Safety Checklist covering the safe use of fireworks as well as transportation, partying, and more.
According to TrafficSafetyMarketing.gov, 780 people suffered fatal injuries as a result of drunk drivers during 4th of July holidays from 2007 to 2011, accounting for 40% of all fatal motor vehicle traffic accidents during this same period. Americans love to celebrate, but a tradition of taking things too far during 4th of July weekend has become one of the most dangerous United States trends currently documented. Fireworks are a serious threat to United States citizens, with nearly 10,000 people being treated in emergency rooms from firework related injuries in 2011.
Randy Collins, MacGregor & Collins, LLP firm partner, assists those convicted of misdemeanor and felony offenses in California and hopes to decrease injuries and criminal arrests through informational material. "I've worked with countless alleged criminal offenders with charges resulting from 4th of July activities with the vast majority of those being DUI offenses. Some of my clients are dangerous individuals, but many of them are every-day California citizens who make stupid decisions while intoxicated. A lot of hard-working Americans consider 4th of July weekend to be an opportunity to blow off steam and be a little reckless. Too often, a lack of information contributes to illegal activities that get people into serious legal trouble. We're hoping that our 4th of July Safety Checklist will not only protect those using fireworks, but those who may have otherwise made irresponsible decisions that could land them in jail.
"If one, two, or three people are able to avoid injury, death, DUI, DWI, assault, or any negative repercussion due to our checklist, we are more than happy to spend the time putting these informational pieces together. Minors are especially at-risk during this time and could benefit greatly by these types of tips," said Attorney Collins.
MacGregor & Collins, LLP 4th of July Fireworks, DUI, and Party Safety Tips
Fireworks
1. If you are intoxicated, handling fireworks is extremely dangerous. Control yourself and save your fingers, hands, and other extremities.
2. Always operate fireworks next to a readily accessible water source in case of emergencies.
3. Do not let children light fireworks.
4. Keep spectators a safe distance away from fireworks during use.
5. Do not jump over, kick, or pour lighter fluid on firework displays. These actions can easily result in serious burns and a trip to the emergency room.
DUI, DWI, and Drunk in Public
1. Operating a motor vehicle while under the influence of marijuana or any other drug can affect your ability to drive. "Although I have personally defended marijuana DUI clients in trial and obtained favorable case outcomes there are legal repercussions for stoned driving," said Randy Collins.
2. Designate a sober driver at the beginning of the night, days before if possible. If your "designated driver" regularly drinks obtaining a back-up is a good idea. Once people are drunk, stoned, or high, they tend to make decisions that are not in anyone's best interest.
3. Do not approach or joke with police officers while you are intoxicated. Just because it is the 4th of July does not mean that you or your friends are allowed to be drunk in public. Keep this in mind at all times.
Partying
1. If you are hosting a 4th of July party at your home, make sure to keep a close watch on your guests. Intoxicated individuals with combustibles are a combination that no one wants in their home and requires supervision to keep your guests and your home burn free.
2. Identify designated drivers at the door. If a lot of people are intoxicated at your party, putting designated drivers "in charge" of groups of people may be helpful to keep everyone in order.
3. Do not let intoxicated people into your home who have fireworks.
4. Do not tolerate illegal fireworks. Although it may be tempting, illegal fireworks at your home can get you in a lot of trouble.
About MacGregor & Collins, LLP
MacGregor & Collins, LLP is an Orange County law firm that provides criminal defense legal representation. If you are located in Southern California and have been arrested or charged for any offense, you are invited to contact their firm for a free legal case evaluation.
MacGregor & Collins, LLP
1000 Quail Street, Suite 110
Newport Beach, California 92660
http://www.cmcdefense.com