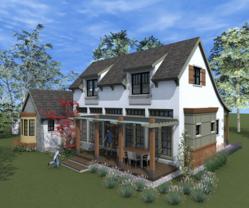 The competition was really fun!… The experience was great. My wife and I loved it.
Cambridge, MA (PRWEB) June 29, 2013
Arcbazar announces an online crowdsourcing platform to design guest houses and vacation cabins. Accessory guest houses are separate living quarters that are not attached to the main dwelling unit. They are also called "mother-in-law quarters" or "granny flats." More and more homeowners construct smaller units on their lots to house their guests, family and friends, or build cabins on special sites that they own, such as beautiful shorelines, lakes or forest areas.
Arcbazar, a start-up company, offers an innovative and easy solution to create such customized guest houses and vacation cabins by crowdsourcing the architectural design challenge to designers from all around the world. Each project is launched online and designers compete and submit solutions. Clients can then choose the design they like the most, based on their initial evaluation criteria. Hundreds of clients around the globe have already used Arcbazar for successful architectural projects; these include buildings from scratch, remodeling projects, landscape and interior design challenges.
John S., wanted to build a cabin on a 75 feet wide beautiful lot on Lake Michigan, in order to house guests for a few days. "We have looked on the internet at lots of house plans but don't see what we like," says John. Hence he launched a four-week long design contest on Arcbazar to crowdsource his problem to architectural designers from all around the globe. "We make it easy for clients to connect with designers and develop their architectural dream into reality. Throughout the competition process homeowners can correspond with designers anonymously on the project's online wall," says Imdat As, CEO of Arcbazar, "this allows deliberating on particular details that the client may have left out in the beginning of the project. Also, since this feature is public it is available to all designers and no repeat questions occur."
Over the four week time period, John received 12 design solutions from all around the globe. The winning designer was Lawrence Martin, a young architectural professional from Denver, Colorado. "… the top 3 designs were exceptional. And each of the twelve submitted designs presented a unique idea. If I had taken my project to a local architect, I would have received a single design, and I would have wondered whether my architect was presenting good ideas," says John, "also, the competition was really fun! Every day during the competition I would log in to see if anything new was posted. And when the competition ended, I was able to share all the designs with friends and family to get their feedback… I pledged the amount recommended by Arcbazar. In retrospect, I would pledge more... The experience was great. My wife and I loved it."
About Arcbazar
Arcbazar.com, Inc. is the first-of-its-kind online crowdsourcing platform for architectural design projects. The company connects clients with designers worldwide, and allows clients to run competitions for their remodeling, home, commercial and interior design projects. To learn more, visit http://www.arcbazar.com.