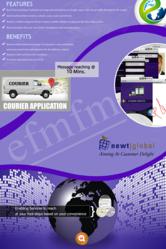 Irving, TX (PRWEB) June 29, 2013
Newt Global, the leading provider of enterprise mobility solutions for courier and logistics industry, advanced one step ahead with latest version of efmfm- Courier. The advanced version has unique features to smoothen the Cash on Delivery, reconciliation and Return to Origin processes.
Efmfm-Courier, an innovative and interactive real time tracking solution has raised the bar beyond expectations from the previous version by implementing route optimization & COD. With its latest release of efmfm- Courier Newt Global puts many upgraded features in the hands of sellers, courier companies, dispatchers and the buyer.
With Cash on Delivery module efmfm is now set to win the hearts of online shopping service providers. Newt Global has customized admin console, seller module and delivery van module of efmfm- Courier with Cash on Delivery features. The sellers can register themselves with courier and logistics companies. With separate log in credentials, sellers can upload spreadsheets containing all information about pickups- item description, quantity, date & pick up time, item price and payment mode (Default COD). Seller receives alert with respect to the shipment made and can track the payment. Seller receives the payment for COD transactions after reconciliation of the remittances from courier companies.
The new COD features of admin console, allow courier companies to monitor pickup requests from sellers with clear indication of COD shipments. They can easily handle and approve the scheduled pickups from sellers. Consignments for pickup are automatically allocated to a delivery van/dispatcher in a particular location. Reconciliation function enables administrator to consolidate, reconcile and remit all COD payments to sellers. It provides a clear status of delivered, undelivered and return to origin packages.
Delivery van module provides dispatcher a list with clear indication of pickup and drop shipments, also COD and paid shipments. It enables dispatcher to capture COD details, signature and photograph of receiver/buyer/end-user. Buyer makes the payment at the time of delivery to dispatcher.
With a wide range of administrative features and options, efmfm- Courier reduces the incidence of failed deliveries, saves the distance and time traveled by delivery van, Reduces calls from or to customers regarding deliveries and improves customer experience by providing real time updates to expected time of arrival - leading to maximum ROI and customer delight.
About Newt Global Consulting, LLC
Newt Global Consulting is a MBE/WBE/HUB Certified Global IT services company headquartered in Irving, Texas and is a Tier-1 vendor to multiple Fortune-50 clients. They specialize in a range of IT services on a broad range of technologies, mobile development, QA, and program management. Newt Global leadership is committed to staying at the forefront of technology, and has invested in building a mobile development/testing framework and has recurring training programs in both iOS and Android. Learn more at http://www.newtglobal.com