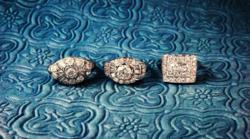 San Diego, CA (PRWEB) June 29, 2013
Vintage and antique engagement rings are a very popular trend and are becoming the choice for A-list celebrities! Leo Hamel Fine Jewelers offers the largest selection of vintage and antique engagement rings in San Diego.
Vintage engagement rings range in age from coveted antiques that are more than 100 years old to rings that were crafted 30, 15, or just 2 years ago. Vintage rings are available in a multitude of diverse styles and shapes, so whether she admires classic chic, an elaborate design, or something avant-garde, today's bride can find a ring to match her preference.
Antique engagement rings conjure up a rich romantic history and many were carefully hand carved, unlike mass-produced rings today. Three of the most popular jewelry eras are Victorian, Edwardian, and Art Deco. Delicate Victorian rings were made between 1837 and 1901and often feature sapphires and rubies. Exquisitely detailed Edwardian-era rings, created from 1901-1910, are often set with rose-cut diamonds, while rings originating in the Art Deco era, which occurred from 1920 to 1930, have striking geometric designs that frequently highlight emeralds or sapphires.
Begin your search for the perfect ring at Leo Hamel Fine Jewelers and discover why vintage is the new trend for engagement rings.
For more information, visit their showrooms in San Diego and El Cajon, call 619.299.1500, or go to http://www.leohamel.com.
Leo Hamel Fine Jewelers has been buying and selling jewelry in the San Diego area for over 32 years. Just last year they were voted San Diego's Best Designer Jewelry in the 10News.com A-List contest, San Diego's BEST Jeweler in the Union Tribune's SD BEST poll, and San Diego's Best Jewelry Store in Citybeat's 2011 Readers Poll. Leo Hamel Fine Jewelers' showrooms in San Diego and El Cajon offer watches and jewelry for sale, and watch and jewelry repair is available in the San Diego location only. Nine jewelry buying locations in San Diego, La Mesa, Solana Beach, Oceanside, Escondido, Rancho Bernardo, Chula Vista, Scripps Ranch, and El Cajon specialize in buying your unwanted gold, jewelry, and fine watches.
For more information about this press release, please contact Paloma Colón at 619-299-1500 or paloma(at)leohamel(dot)com