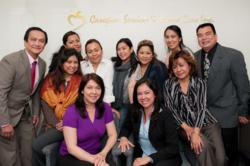 " Caring for Life "
Los Angeles, California (PRWEB) June 29, 2013
BCT Group of Company headed by its CEO Belina Tagarao (L.A. Image Awards Honoree 2013) spearheaded the 3 companies annual corporate training- Caregiver Services and Home Care Inc. http://www.mycaregiverservices.com , L.A. Jobs Employment Agency http://www.lajobsea.com and Summit Medical Billing group to better serve its customers and maintain its strong position in each respective industry. The Training / Workshop and Team building session was facilitated by its Director for Business Development and Training Randy Clarito.
The Training Modules were customized for this Group of Company strategically aligned to its 'Continuing Professional Education' CPE Program. This program is embodied in its Business Process and Operating System which will enable each Managers and personnel to provide excellent customer service as mandated by the Organization's Service Philosophy and Core Values. The Training Modules offer an innovative and strategic approach in a deeper understanding of Purpose of Business, Vision and Mission of the company, unique STAR Philosophy, Goals setting, Effective Business Communication skills, Building corporate relationship and the true rudiments of Synergy.
All Training and Workshop participants were able to contribute to a clear vision and strategic direction for the next five years signed and agreed with exemplary enthusiasm bringing forth a guaranteed sustainable business growth in the coming years. As a follow through implementation of what was agreed during the Company Annual Training, Caregiver Services and Home Care Inc. conducted another Inductive Training and CPR class in its In-house 'Caregiver University' last Friday June 28 attended by 22 qualified caregivers /CNA. L.A. Jobs Employment Agency on its part, launched their newly revised and constructed website, http://www.lajobsea.com and will roll out marketing and massive P.R. Campaign in the coming weeks. The Summit Medical Billing group had another Training session this week at the corporate head office based in Los Angeles to better prepare all key personnel for the next six months of the year. The company aims to keep a strong business alliance and network with the American Medical Association AMA http://www.ama-assn.org.
About our Group of Company:
Caregiver Services and Home Care Inc. (CS) http://www.mycaregiverservices.com is a premier In-home care service company that provides professional private care duty to seniors and adults requiring assistance in their home and healthcare needs for the past 10 years. The company is run and managed by healthcare Executives with local and international training with combined top level executive work experience of more than 40 years. CS is the only In-Home Care company that has its in-house 'Caregiver University' in Southern California area that provides professional caregiver training held at its Los Angeles head office. CS is a Certified Member of CAHSAH, California Association for Health Services at Home and operates in Los Angeles County, Orange County, Ventura County, San Fernando Valley, San Bernardino County and Santa Barbara County area. Free evaluation, call #213-351-9100 #805-338-8100, #310-779-6254, #818-561-6641 and #562-412-2420.
L.A. Jobs Employment Agency
The leading career and visa specialist in Los Angeles for foreign professionals. L.A. Jobs http://www.lajobsea.com provide more opportunities for international workers who are highly qualified professionals and competitive to be able to build their career in the U.S. The company had successfully placed hundreds of applicants in the past few years even during the period of recession and it had attained a high approval rate of H-1B work petitions and green card of applicants enabling them to take the path to citizenship through employment and live the American dream. The company aims to be the premier leader in the employment industry in the U.S. Call for free consultation at #213-351-9100.
Summit Medical Billing
A fast growing Medical Billing company that helps physicians and other medical and healthcare companies obtain payment from insurance carriers and patients by effectively handling insurance claims and aid them to manage their practice and finance side efficiently. Summit Medical Billing aims to establish a strong alliance with the American Medical Association and continue to provide help to their members increase their revenue with the efficient handling by the company's billing expert. Call for free evaluation and consultation at #213-351-9100.