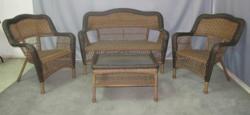 I called Annie's Wicker and they helped me pick out the right cushions for my patio furniture. I saved a lot of money.
Pemberton, NJ (PRWEB) June 30, 2013
A garden is not only a place for plants to thrive but also for people to enjoy. A garden is so much more than an area of flora growth. Today, a garden is inclusive of an outdoor lifestyle, a lifestyle that many are looking to Annie's Wicker to aid them in upgrading. That said, decorating a deck, garden, patio, poolside, porch or yard with a great view of the garden as a part of the overall look of the home is important. Outdoor resin wicker furniture plays a crucial role in making the garden or outdoor area an enjoyable and comfortable space for all to enjoy.
In choosing outdoor resin wicker furniture, getting something that just looks good is simply not enough. One must keep in mind that outdoor resin wicker furniture will quickly become an everyday used item in or around the home; therefore choosing quality is a must. Strong and durable are two words that apply to the outdoor resin wicker furniture that is offered by Annie's Wicker. The selection offered by Annie's Wicker is proven quality that is proudly backed by a three year manufacturer's warranty. Annie's Wicker offers products that are fade resistant and will, without doubt, hold up in the elements; therefore allowing them to be used for all occasions throughout any month of the year.
The secret to choosing outdoor resin wicker furniture is being able to distinguish a good and quality material from furniture that is disguised as such, yet is, upon education of quality materials and inspection, found to be beyond sub par. Quality outdoor resin wicker furniture, such as that offered by Annie's Wicker, is furniture that features a heavy duty, rust proof, powder coated aluminum frame. The outer resin is made out of one hundred percent synthetic resin which is extremely durable and therefore useable outdoors all year long. The resin is weaved in a manner that exemplifies comfort and the utmost style.
It is important to note the ease of care of outdoor resin wicker furniture that is offered by Annie's Wicker. Simply washing furniture down with soap and water leads to instant clean! The resin is, of course, stain resistant, water resistant, ultra-violet resistant, and built on crack and split resistant frames. The cushions, of which there seems to be an almost infinite amount of choices (many in six-inch thick foam), are mold resistant, mildew resistant and stain resistant. Fabric cushion covers are also easily cleaned with soap and water.
About Annie's Wicker, LLC:
Annie's Wicker offers outdoor resin and wicker furniture designed and imported from leading manufacturers. The manufacturers use the highest quality materials in the construction of these goods.
For more information about Annie's Wicker, or to start shopping for the upcoming season, visit Annie's Wicker Furniture and Accessories.