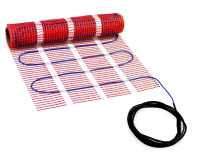 HeatTechProducts.com prides itself of being a Green, environmentally friendly company
(PRWEB) June 30, 2013
HeatTechProducts.com, a major online retailer of radiant floor heating products, has joined the US Green Building Council.
In a statement issued today, HeatTechProducts.com management has announced that the company has become a member organization of US Green Building Council (USGBC).
The statement further states that "HeatTechProducts.com prides itself of being a Green, environmentally friendly company. Becoming a member organization of USGBC goes hand in hand with our mission of developing and marketing energy efficient products which effectively reduce energy consumption and impact on the environment. We are confident that our membership, along with membership of many other environmentally conscious companies and organizations will enable USGBC to further its goal of promoting green building practices."
Company listing can be found at http://www.usgbc.org/organizations/heattechproductscom
About HeatTechProducts.com
HeatTechProducts.com is a distributor and online retailer of high quality, UL listed electric floor heating products for residential and commercial applications. The company's product line includes Honeywell thermostats (120V and 240V), in floor heat mats (available in sizes ranging from 10 to 160 sqft) and floor heating cable (available in lengths ranging from 40 to 800 ft).
About US Green Building Council
USGBC is a diverse group of builders and environmentalists, corporations and nonprofits, teachers and students, lawmakers and citizens. USGBC has 77 chapters, 13,000 member organizations and 196,000 LEED professionals strong that share the same vision of a sustainable built environment for all within the next generation.