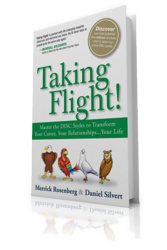 Taking Flight with DISC has direct applications for strengthening communication, team building, conflict resolution skills, and motivation.
Boardman, OH (PRWEB) June 30, 2013
PeopleKeys has partnered with Merrick Rosenberg & Daniel Silvert to develop the free DISC reporting website linked with their new popular book Taking Flight with DISC, released earlier this year through Pearson Publishing. After reading the book and learning about DISC as a powerful tool, the reader is guided to the PeopleKeys website, takingflightprofiles.peoplekeys.com to take their free DISC test and receive their free DISC report. If readers wish to upgrade to their more in-depth DISC report, they can use a promotional code from the book to receive a discount on the purchase.
Due to the book's popularity in English speaking countries, Pearson Publishing has opted to have the book fully translated into 4 new languages: simplified Chinese, Portuguese, Spanish, and Dutch. The five new languages will also appear on the book's website takingflightprofiles.peoplekeys.com beginning July 1. The announcement reflects the increasing popularity of DISC personality assessment tools around the globe, and reinforces PeopleKeys' commitment to maintaining a strong presence in a fast-growing international marketplace.
Taking Flight with DISC carries a message that has already provided help to countless individuals around the globe. It is based on the authors' extensive knowledge of DISC, a method of personality analysis that has been successfully used in personal, professional, and clinical settings across the world for over 80 years. DISC theorizes that there are four major personality types, all of which have different strengths, fears, stress triggers, and aptitudes. By understanding the predictable behavior patterns of each of the four major personality styles, individuals can develop strategies for more effectively interacting with others. Unlike many dry academic texts on the subject of DISC, Taking Flight with DISC presents information in a way that is simple, fun, and easy-to-understand.
The book begins with a business fable that features a group of birds forced to work together towards a common goal. The take-charge eagle, the social parrots, the compassionate doves, and the detail-oriented owls. Each of these birds directly correspond to one the four personality styles at the heart of DISC theory: (D) Dominant, (I) Influencing, (S) Steady, and (C) Compliant. It is this metaphor that drives the content of the book, and provides a way for those uninitiated into the world of DISC to easily understand the applications of DISC theories of human behavior.
The information and advice within the book is intended to help individuals capitalize on their own inherent strengths, and to use knowledge of human behavior to achieve personal and professional success. The book has direct applications for strengthening communication, team building, conflict resolution skills, and motivation. Through the original English edition or with any of the new language translations, readers will learn how to:

Use the 4 DISC personality styles to understand and predict the behavior, fears, and interests of others
Master 7 transformative DISC principles
Better understand their own inherent strengths and natural gifts
Repair damaged relationships
Become a more effective leader, team member, employee, mentor, teacher, spouse, or parent
The message of personal growth and empowerment in Taking Flight with DISC is applicable not only to different fields (sales, education, business, and more) but crosses international and cultural boundaries as well. The new translations of the book will help Taking Flight with DISC reach a wider market, and will help satisfy the growing demand for DISC products around the globe. Markku Kauppinen, President and CEO of Extended DISC North America echoed this sentiment by commenting that "As powerful as Taking Flight is for developing talent within companies, perhaps its greatest contribution will be to launch DISC into mainstream culture."
To receive a one-page report about your personal DISC style or purchase your comprehensive "Taking Flight" DISC profile by PeopleKeys, visit takingflightprofiles.peoplekeys.com. Taking Flight with DISC will be available in five different languages at http://www.takingflightwithdisc.com. To find out more about PeopleKeys translated DISC reports and training packages (currently available in over 15 different languages), or to learn more about partnership opportunities with PeopleKeys visit peoplekeys.com.
About PeopleKeys
PeopleKeys has partnered with distributors in 14 countries and six continents, making them a leading provider of DISC behavioral analysis tools to the international community. PeopleKeys believes that an understanding of human behavior can be used to improve relationships, streamline productivity, resolve conflict, and reduce stress. For more information about PeopleKeys and their DISC solutions, please contact Marketing Manager Kaitlyn Miller at 330-599-5580 x113.