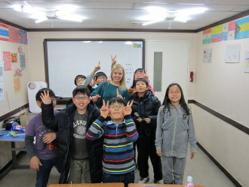 There are approximately 250,000 teaching opportunities for English speakers abroad – perhaps even more
Chicago, IL (PRWEB) June 30, 2013
Chicago-based International TEFL Academy, a world leader in TEFL (teaching English as a foreign language) certification courses for teaching English abroad has announced 2014 dates for internationally accredited TEFL classes in Chicago and online.
"Between our four-week TEFL classes in Chicago and our 11-week part-time online TEFL classes, we expect enrollments to top 1,000 students by the end of 2013, so it is exciting to look forward to 2014 with the new class dates," said Bruce Jones, President of International TEFL Academy.
According to Jones, a combination of a slow job market in the U.S. and booming demand for English teachers abroad has led many seeking new employment opportunities and international adventure to discover that teaching English abroad provides hundreds of thousands of job options for English speakers from all backgrounds.
"There are approximately 250,000 teaching opportunities for English speakers abroad – perhaps even more," Jones said. "Our graduates now teach English abroad in 80 countries around the globe from China and Thailand to Spain and Brazil."
Jones added that virtually anybody with fluent English skills can teach English abroad, but training in the form of a TEFL certification is crucial in most cases. "You don't need to have a master's degree in education or even professional teaching experience, but schools abroad don't want to just hire people off the street to teach English either."
"I knew I needed a TEFL certification to teach abroad. I chose the International TEFL Academy for a combination of reasons including the thorough description of the high level course, the price, and the timing," said International TEFL Academy graduate, CatherineRose Mountain. Mountain, 26, hails from Carmel California and is now teaching English in France.
Jones said that 11-week online TEFL classes will begin every two weeks throughout 2014 while four-week intensive TEFL certification classes in Chicago will be offered in 11 sessions.
"The online TEFL classes are part-time and are designed to accommodate those who working full-time or going to school, and are ideal for those who want to earn their TEFL certification from home, which can be anywhere in world," Jones said.
Jones stressed that all International TEFL Academy TEFL certification courses, including the online course, are independently accredited and meet or exceed all standards recognized by language schools and leading international bodies like the British Council.
"All of our courses meet the 12-hour standard and they all employ a stringently vetted curriculum, incorporate live practice teaching, and are taught by experienced university professors holding advanced degrees in the field of teaching English as a foreign language," Jones said.
Those enrolled in both International TEFL Academy's 170-Hour Online TEFL Certification Course and the four-week Chicago TEFL Class, as well as International TEFL Academy's 25 other TEFL course locations around the world, also receive Lifetime Job Search Guidance to assist them with lining up English teaching jobs around the world.
"There are thousands of opportunities to teach English abroad," said Jones. "But navigating international job markets and figuring out matters like hiring seasons and visas can be challenging, so we provide comprehensive assistance, guidance and resources to all of our students and graduates."
Request a brochure or call 773-634-9900 to learn more about teaching English abroad and TEFL Certification around the world.
International TEFL Academy (ITA) is a world leader in training and certifying English speakers to teach English abroad. Based in Chicago, IL, ITA trains more than 1,200 English teachers annually and offers internationally accredited TEFL TESOL certification courses online and in 25 locations around the world. All students and graduates receive lifetime job search guidance and graduates are currently employed as teachers in more than 50 nations in Europe, Asia, Latin America and the Middle East.
For more information, please visit: http://www.internationalteflacademy.com