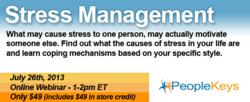 Individuals can learn to understand their own reactions to stress, and anticipate how different personality types will instinctively respond in stressful situations.
Boardman, OH (PRWEB) June 30, 2013
PeopleKeys, the industry leader in personality assessment and behavioral solutions, today announced that it will be hosting a live webinar that explores how DISC personality assessment can be used to minimize the negative impacts of stress. The webinar, Stress Management, will be held on Friday July 26 at 1 pm EST. In the hour-long presentation, participants will:

Learn the basic theories behind DISC personality testing;
Explore the connections between personality, behavior, and stress;
Discover how personality type impacts the way an individual experiences stress;
Become able to recognize key stress triggers for each personality type;
Use DISC to implement a plan for chronic stress prevention based on personality style.
The Stress Management webinar is part of PeopleKeys' popular DISC for the Real World series of live training events, and will be led by PeopleKeys Director of Corporate Communications John Schindell. The webinar promises to provide an engaging and interactive environment to help individuals better understand the role that stress plays in their daily lives, and how DISC can be used to restore a healthy balance.
PeopleKeys chose to offer a Managing Stress webinar based on their understanding that prolonged periods of intense stress can take a serious toll on an individual's physical and emotional health. Lowered immunity to illness, anxiety, depression, weight fluctuations, high blood pressure, heart problems, and sleeplessness are all documented consequences of chronic stress. Despite this, a recent study by the American Psychological Association revealed that 33 percent of Americans have never spoken to their doctor about strategies for managing stress.
The empowering message behind the Managing Stress webinar is that individuals don't have to silently suffer in an attempt to endure stress. Individuals can instead learn to understand their own reactions to stress, and anticipate how different personality types will instinctively respond in stressful situations. Once individuals can better recognize the triggers behind destructive stress, they can modify their behavior to avoid serious problems.
The goal of the Managing Stress webinar is to help participants find balance, feel healthier, increase their energy levels, better understand themselves, and better understand the behavior of others. All of this is accomplished through the lens of DISC, a behavioral analysis technique that has been successfully used in clinical settings for over 70 years.
As an added incentive, the Stress Management webinar's $49 registration comes with complimentary access to an online PeopleKeys account loaded with two free DISC reports. The DISC reports, normally priced at $52, can be used to expand the applications of DISC beyond stress management and into other avenues of self-improvement such as interpersonal communication, team building, career advancement, and conflict resolution.
For more information about PeopleKeys, their DISC solutions, or to register for the July 26 Stress Management webinar, visit http://www.peoplekeys.com.
About PeopleKeys
PeopleKeys has been providing tools to measure the connection between personality and human behavior for over 30 years. PeopleKeys believes that an understanding of human behavior can be used to improve relationships, streamline productivity, resolve conflict, and reduce stress. For more information about PeopleKeys and their DISC solutions, please contact Marketing Manager Kaitlyn Miller at 330-599-5580 x113.