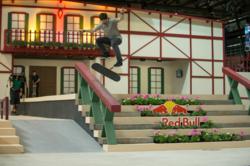 "I am super stoked, and you know what…I have been trying to do this for a long time so I can stop worrying because I skate better when I stop worrying so now it is just the beginning." Chris Cole
Munich (PRWEB) June 30, 2013
Monster Energy congratulates Chris Cole on his first Street League Skateboarding tour win today and fourth X Games Gold medal, where he dominated the concrete course with Bavarian-like structures at the X Games Munich. In front of a huge crowd of screaming German fans, Cole delivered a mind-blowing barrage of technical skating and rolled away with a gold medal.
Undoubtedly one of the most technical street skaters in the world, Cole's win today backs up his recent second place victory at the Street League Skateboarding event in Kansas City earlier this month, and allows him the confidence to stop worrying and bring it to the next stop in Portland and then on to the X Games LA and the finals in New Jersey.
"I am super stoked," said Cole, "and you know what…I have been trying to do this for a long time so I can stop worrying because I skate better when I stop worrying so now it is just the beginning."
SLS brings authentic street skating to the X Games thanks to a legit set up, obstacles, and judging format. Today's final was broken up into three sections to allow riders to be tested on every part of the course. Skaters hit a Flow Section where they are scored by the highest score of two runs, a Control Section, which is scored by the highest trick score of five attempts, and an Impact Section, which is scored by the highest four-trick scores of six attempts.
The whole field was skating insane, but Cole took second place in the Flow Section, trailing Monster teammate O'Neill and scoring an 8.9 where he landed a blunt slide on the big hubba and backtail backside flip in on the quarter pipe. Cole landed other solid tricks in the Flow Section to include a front blunt on the big hubba, switch 180 smith, and kick flip backtail to fakie.
Cole scored an 8.8 in the Control Section, landing a switch 270 front blunt on the long rail. The only skater to land four of the six attempts in the Impact Section, and after missing the third and the fourth attempts, Cole knew he had to step it up and needed something huge if he was to take gold. He delivered with a 180 switch crook on his fifth run, taking an 8.3 and ultimately edged out Rodriguez with his final run, stomping a 360 flip to 5050 on the big hubba, giving him a 9.0 – nailing the (HST) highest score-trick in the Impact Section.
Cole netted out with a final score of 51.3 and Rodriguez finished at a semi distant 43.3.
Other notable highlights were from Monster Energy teammate Shane O'Neill who led the pack out of the Flow Section with his mind-blowing bag of tricks to include switch nollie nosegrind, bigspin front blunt, nose manual nollie flip, and switch 360 double kickflip giving him a score of 9.2, the highest line score in history.
O'Neill commenting on the course and Cole's win, "Munich was a good time and the course was sick. Stoked to see Chris win."
Monster Teammate Nyjah Huston, the defending 2012 Street League Champion who won gold at X Games Foz do Iguaçu and X Games Barcelona, and also just won the Street League stop in Kansas City, Mo., earlier this month, was not able to compete because of a rib injury, but is expected to be back for the Portland Street League event next month and then X Games LA in August.
For more on Cole and Monster Energy at X Games Munich, including exclusive photos and daily recaps, check out monsterenergy.com or monsterenergy.com/facebook.
###
About Monster Beverage Corporation:
Based in Corona, California, Monster Beverage Corporation is the leading marketer and distributor of energy drinks and alternative beverages. Refusing to acknowledge the traditional, Monster Beverage Corporation supports the scene and sport. Whether motocross, off-road, NASCAR, BMX, surf, snowboard, ski, skateboard, or the rock and roll lifestyle, Monster is a brand that believes in authenticity and the core of what its sports, athletes and musicians represent. More than a drink, it's the way of life lived by athletes, sports, bands, believers and fans. See more about Monster Beverage Corporation including all of its drinks at http://www.monsterenergy.com.