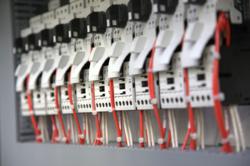 Bristol, CT (PRWEB) June 30, 2013
Conveyco, an integrator of Automated Material Handling Systems and Design Build Solutions, announces today a dedicated laboratory for the pre-deployment testing of software and customer service activities.
"Our state-of-the-art laboratory has been implemented to test PLC software before it is deployed at client sites. We are able to test our code before it is put into live production, this reduces risk to our clients and their operations," said Scott Busher, Sr. Controls Engineer at Conveyco. "This allows us the opportunity to test our software adding necessary exception handling features before it is installed at our client's facility."
Conveyco has invested in the hardware necessary to fully equip the lab for testing and R&D operations. Leading technology has been placed into the lab for the use of the Conveyco team in the development of new products and applications for the betterment of its clients including multiple platforms of HMI (Human Machine Interface) applications. Monitoring systems such as HMI's have been proven to increase the productivity of the systems installed by improving the customer experience and allowing for quicker error recovery and ease of safe system operation.
"This space is a testing laboratory but it is so much more. The lab is a way for us to show the many clients we have through our operation our expanded software capabilities," Craig Kiernan, Systems Engineering Conveyco. "While we have been making panels for over 30 years, our entire process has been reviewed and improved to focus on quality, consistency, and standardization."
Conveyco (http://www.conveyco.com), a material handling systems integrator, with a team of best-in-class engineering talent, works closely with its supply chain clients to design original, reliable, street-smart solutions that help them overcome their toughest challenges in the movement, storage, control and protection of materials and goods throughout their manufacturing and distribution operations. From problem definition to implementation, Conveyco's collaborative work ethic enables its clients to achieve their goals for enhanced profitability and to compete more successfully within their industries.