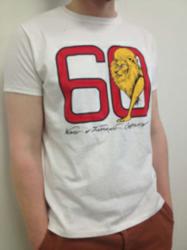 'It is a real honour to be a print supplier for Cannes Lions, and then to see the t shirts everywhere, being worn all across the world…the t shirts have gone viral you might say,' remarked Gavin Drake, CEO of Garment Printing
London (PRWEB UK) 30 June 2013
It's a tall order to meet the demands of Cannes Lions production team, but it seems that, given they were invited back in 2013 to print again, in their own way, Garment Printing have been awarded their own Gold Lion Award of excellence.
2012's printed t shirt design involved a multi-coloured screen print onto a black t shirt and was a real test for any t shirt screen printing company. Have you seen it? Unfortunately, unless you attend the Cannes Lions Festival of Creativity, or were lucky enough to win a printed t shirt in one of the competitions, these t shirts are simply exclusive. In 2013, to celebrate the 60th Anniversary, the Cannes Lions festival creative team collaborated with legendary artist and illustrator Gerald Scarfe for the design of the 2013 exclusive custom printed t shirt. A short film summarising the artists career and lifestyle was produced and the t shirt was printed and given to all delegates of the festival, and to 60 lucky competition winners that engaged on Cannes Lions & Garment Printing Twitter and Facebook pages. The competition only lasted 20 minutes, everybody wanted to get their hands on one of the t shirts. "It is a real honour to be an official print supplier for Cannes Lions, and to print a design by Gerald Scarfe, and to then see the t shirts everywhere; t shirts printed in London, delivered to Cannes, and now being worn all across the world… the t shirts have gone viral you might say," commented Gavin Drake of Garment Printing.
T shirt lovers wanting to get their hands on the 2013 printed t shirt, designed by Gerald Scarfe, here's possibly a one and only chance. Garment Printing Director & Founder Gavin Drake has his 1 medium sized t shirt he wants to give away to the person that tags and tweets the most photos of this year's t shirt being worn in different parts of the festival and the world. The competition will last for 14 days, and the winner will be selected by having tagged and tweeted the most photos of people wearing their Cannes Lions 2013 t shirt, on Garment Printings twitter and facebook pages. The t shirt may even be autographed by Gerald himself if he agrees. To enter send an email to competitions(at)garmentprinting(dot)co.uk before 14th July.
The Cannes Lions Festival of Creativity is an amazing weeklong event, not only celebrating the outstanding work from previous years, but also shaping the creativity of the future. Seminars, workshops, exhibitions, awards ceremonies, parties and much more guarantee all whom attend walk away inspired and excited for future of creativity, and ready to get involved for the next year.
Notes to Editors:
Garment Printing.co.uk is an industry leading promotional and customised clothing company. Garment Printing's agency work involves consultation to global brands, marketing teams and promotional agencies, to ensure all printed clothing campaigns are realistic, within budget and effective.
For any press enquiries please contact:
Gavin Drake
Email: Gavin(at)garmentprinting(dot)co(dot)uk
Phone number: +44 (0) 207 101 9315