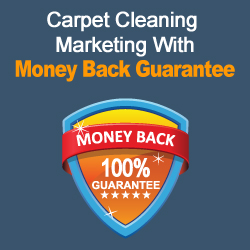 There is no non-sense talk about getting you thousands of visitors or getting a top ranking. We get to the bottom line i.e. to generate real leads and business for you.
(PRWEB) June 21, 2013
Having generated splendid business for some of the leading companies in the cleaning industry, Clean Marketing Online is extremely confident of their expertise in online marketing. The company has announced a 90-Day Marketing Program with an unbelievable 'No Results Refund' Guarantee for carpet cleaning businesses. Such a tall and strongly worded promise is hard to come by in the marketing industry.
Divulging more details about their work, the Company President, Abhi Patel said, "Over the years, we have strongly positioned ourselves as a dependable marketer for cleaning companies. "We help cleaning companies set up a professional website and run an aggressive Google AdWords program, which helps them generate measurable business and ROI. Our passion and dedication has helped pave success for many cleaning companies." He further added, "This Money Back Guarantee is our assurance to cleaning companies about how strongly and passionately we believe in our work; and that we mean real business when we take up the challenge of marketing for your company."
Offering details about their marketing program, Abhi said, "We offer a two-pronged approach to promote our client's company and get them real business. First, we design a professional website that assures a strong web presence for the client. Secondly, we run a rigorous and strategically planned Google AdWords marketing program, which helps client generate fresh leads and grow their business faster."
Explaining the 'No Results Refund' Guarantee, Abhi said, "We promise you a refund of 50% if the website designed by us does not garner business for you in 90 days." He further explained that the company is not promising a 100% return as it can only bring the opportunity to clients while the onus of conversion still lies on the client. "Getting business is a responsibility shared between the customer and us" he added. Also, the company promises a 50% return on their marketing fees if their AdWords program does not generate new business for the client.
So is this an open offer to all cleaning companies? Well, not really. Clean Marketing Online has set up an eligibility criterion and only those companies that meet these criteria are entitled to a money back guarantee. For instance, the guarantee only applies to carpet cleaning businesses. The company should be an established one with a good online reputation and must have at least 3 years of experience in the business. Franchise companies with a corporate support are an exception though. A new business owner can also apply provided they have an experience running another business for at least 10 years. And, of course the company must be willing to invest required amount for the website development and marketing program, the details of which will be provided well before starting the program. If the company meets all the criteria, the company will be presented a written 'No Results Refund' Guarantee. You can apply for this incredible 90-Day marketing program by visiting our website.
About Clean Marketing Online
--------------------------------------------
Clean Marketing Online is a web marketing and lead generation company that has strongly positioned itself in the Cleaning and Restoration segment. The marketing company helps its clients develop a strong online presence and generate quick and consistent business via internet. Its clientele range from well-established national level carpet cleaning companies to humble one-man companies. Company's capability of designing impressive websites and generating incredible ROI on its marketing campaigns is frequently applauded by clients as well as reputed agencies.
For more details, visit our website - http://www.cleanmarketingonline.com
See what our customers are saying about us - Read Customer Reviews