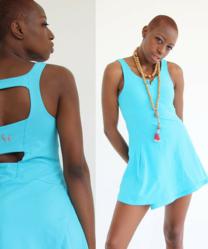 some of us crave sport dresses that can express the joy of movement and sports and look good the whole day long
New York, New York (PRWEB) June 14, 2013
Finally a sports dress which looks sexy and trendy, but allows complete freedom of movement for both running and yoga. And hot enough to make a splash while out on the town.
"We sometimes forget that wearing dresses is an expression of joyful nature of women - like our new Tasman Sport Dress," emphasizes Sevda Holland, founder of Prancing Leopard Organics. "If you go beyond standard sport outfits, some of us crave sport dresses that can express the joy of movement, exercise and sports and look good the whole day long."
"In some ways women are more fortunate than men because women can wear dresses. Exceptions are Scottish men and Mark Jacobs - I am all for unisex fashion!" explains designer Sevda Holland, a graduate of the German Master Institute of Fashion in Munich. "It is the celebratory feeling when you wear with the Tasman dress that makes you more aware of your perfectness just as you are. "
The Tasman Dress from Prancing Leopard is an all-rounder! It is short and sensual - tight in right places and flowy on others, giving you complete freedom of movement.
"The Tasman Sport Dress features a back décolleté that shows off that beautiful back you've been working hard to maintain regardless of your age. And your bra straps remain hidden," adds Sevda Holland, who is a committed environmentalist. "At the same time our exclusive organic zeugma® cotton fabric absorbs moisture readily, helps you stay dry and feels incredibly comfortable on the skin."
Major yoga fitness clothing brands stick to the "yoga pants and sports top" formula in unending variations - mostly without passion or much of a sense of style. Manufacturing is frequently done for the lowest possible wages under miserable working conditions without regard to worker safety. Not so at Prancing Leopard Organics.
All Prancing Leopard clothing is made by insured adult workers in great working conditions, made with passion, love and respect for environment and all living beings, pesticide-free, vegan, fair-trade and made with organic cotton. Prancing Leopard Organics also offers unique hand-made mala necklaces inspired by yoga and meditation, incorporating antique tribal tassels, natural beads and exotic materials from all over the world.
Prancing Leopard Organics founded the Women Artisan Project as a commitment to helping underserved women artisans. Prancing Leopard provides design guidance for their hand-knit and crocheted pieces, thereby helping to keep their creative heritage alive, and empowering the women with self-confidence, independence and their own income.
Prancing Leopard Organics is a sustainable company known for its cutting-edge apparel like the Toulouse Jumpsuit, the Pasha Harem Pant, the Cocoon Shrug and the Seychelles Capris. Prancing Leopard is featured in upscale boutiques worldwide such as Beauty and Nature, Sports Arena and Jivamukti Yoga. Prancing Leopard is the clothing of choice for such fitness luminaries like Elena Brower, Jai Sugrim, Toni Melaas, Elsie Escobar and Lotte Paarup. Prancing Leopard Organics also offers direct internet sales worldwide.