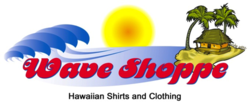 Escondido, CA (PRWEB) June 25, 2013
Wave Shoppe was founded in November 2004 by Charles and Peggy Stankovich out of their passion for the Hawaiian culture.
Originally armed with just a few hundred dollars in startup money and a very small shop in La Mesa California, the business has long since blossomed into one of today's most popular labels for Hawaiian clothing. All of which are made in the USA. The company boasts a hearty lineup of closed, as well as open prints for sale to the public. Many of the designs utilized in the production of Wave Shoppe Hawaiian Shirts are designed in-house with lots of Aloha.
Wave Shoppe is now located in downtown Escondido, the address is 110 N Kalmia St, Escondido, CA 92025. Visitors will find that the showroom offers a nice selection of clothing for men, women, and children. Items include muumuus, caftans, and sarongs, as well as collectable tiki mugs, and tiki bar decorations such as signs and coconut candles. Signs, mugs and decorations can only be purchased in-store.
Business and organizations such as schools and government agencies can purchase Aloha shirts in bulk at deeply discounted prices; visit our wholesale Hawaiian shirts page for more information.
In celebration of Wave Shoppe's 8th birthday the company is offering a special discount on all products offered online and in-store. Customers may reference coupon code HAPPYBIRTHDAY and receive 10% off all purchases. This offer ends December 31st 2012. There is also the possibility of a free Polynesian show or two performed during the Holiday season by the very talented Tipanie O Patitifa Hula dancer's, based in Escondido, California.