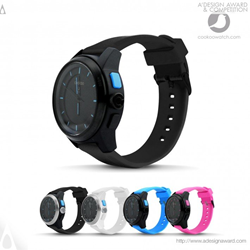 Como, Italy (PRWEB) July 03, 2013
A' Design Award and Competition is honored to announce that the watch design "Cookoo" by Esther Fok has been honored with the prestigious Platinum A' Design Award at the Watch Design Award Competition. The project has been selected as a winner among thousands of other watch designs by the esteemed jury members of the A' Design Award & Competition.
About Cookoo - The Connected Watch
Cookoo is a watch that is connected to your mobile phone to keep you updated with real-time social network notifications and emails: Cookoo is the world's first designer watch that is capable of two-way communication with smart phone trough Bluetooth Smart technology. It can allow users to stay connected to the digital world anywhere, anytime. Underneath the fashion statement of the timepiece lies the soul and spirit of "Cookoo" app so that icons can be selected to acknowledge only customized notifications to be send to the watch owner. Enhanced user experience for application can be achieved by using a custom-made button on the watch that will allow to remotely trigger the camera, open a music playlist or check-up some Facebook updates. To learn more about Cookoo, please visit: http://www.adesignaward.com/design.php?ID=27613
Team Members for Cookoo
Cookoo - The Connected Watch was developed by Nicolas Olivier, Peter Hauser, Xavier Houy and Esther Fok.
The Platinum A' Design Award
The Platinum A' Design Award is a prestigious award given to top 1% percentile designs that have achieved an exemplary level of greatness in design. The designs are judged by a panel of three different jury which is composed of Academic, Professional and Focus Group Members. The designs are evaluated with score normalization to remove any biases and are voted on aspects such as functionality, ergonomics, engineering, presentation, innovation, usability, fun details, technology, and any other specific points that could be considered, each of these points are further weighted for different jury groups.
About A' Design Award and Competitions
A' Design Award and Competition aim to highlight the excellent qualifications of best designs, design concepts and design oriented products. A' Design Award and Competition is organized and awarded annually and internationally in multiple categories to reach a wide, design-oriented audience. Learn more: http://www.whatisadesignaward.com