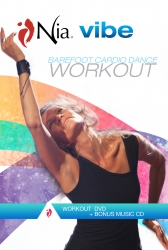 "Most Innovative Workout! Nia stands head and shoulders above a crowded look-alike market." - American Fitness
Portland, Oregon (PRWEB) July 01, 2013
The Vibe workout is one of a series of barefoot, cardio-dance routines, created exclusively by the Nia Technique, Inc. This ground breaking routine places attention on posture, stimulating the whole body by focusing on the back, fingers, hands, and arms.
"The majority of the world is sitting right now, slouched over, with poor posture. This has harmful affects on your health," said Debbie Rosas, founder of Nia. "Vibe has simple moves anyone can master. It's fun and graceful and can be customized and for all levels. The routine uses choreography with hand techniques to deliver muscle definition, joint strength and agility, as well as core and spine stability."
One of the most compelling elements of all Nia workouts are their soundtracks. Vibe features a number of well-known musicians, including Moby, Chris Coco, Bob Marley, Afterlife, Rodney Hunter, Lux Spiral System and City Reverb.
About Nia technique, Inc.:
The Nia Technique, Inc. is a cardiovascular workout for the body, mind, spirit as well as the emotions. This year they are celebrating their 30th anniversary. The company has released dozens of CDs and DVDs that are used in Nia classes all over the world.
The Nia Technique was founded in 1983 by Debbie Rosas and Carlos AyaRosas the San Francisco area. The Nia workout incorporates martial arts, the healing arts, and dance arts into a synergy that provides an invigorating, yet safe and enjoyable, workout set to music. Nia is appropriate for all ages, sizes, and levels of ability.
Nia classes are currently held in 45 countries around the world. Nia's purpose is to grow a worldwide community of healthy people who are empowered to do great things. The founders believe that every person can discover, explore, unleash and enhance their individual potential to live a fulfilling and meaningful life, by engaging their senses and listening to their bodies.
For additional information about Nia technique, please visit http://www.nianow.com.